Ayoul


Offline




• •


Upload & Sell: Off

COLOR PALETTE :

It is, for me, the most interesting part of DXO. The company likes to communicate about the denoising ability of DPL5 (rightfully), their optical corrections (less sure about that), but they forget to communicate about some very, very interesting things that can be found here.

A quick overview of a few things that are not that interesting or doesn't set it apart from the competition :

---------------------------

Channel Mixer :
I don't use it a lot, as far as I red it's mostly used for black and white. Once again, it's apparently not included in DPL 5 if you don't buy FilmPack... Sad decision once again.

---------------------------

Vibrance, saturation. Nothing else to say about them.

---------------------------

A HSL wheel :

It's relatively new (DPL3, I think). It's finally there, and probably sufficient for most users. Its main point is to modify individual colors without affecting the others. Contrary to C1, you won't be able to apply different corrections for a color of the same hue but of different saturations. But you can choose the progressivity of the shift of your color with its neighbours by using the points of the outside circle, which is nice. As far as I know, it's impossible with the HSL sliders in LR. The HSL wheel is there, it's not mindblowing but it's there.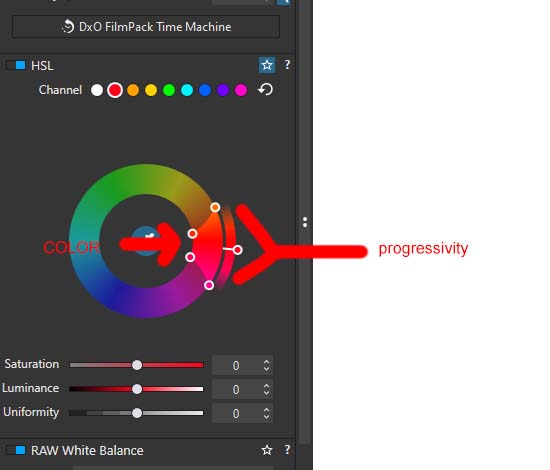 ---------------------------

The white balance :

It can have a curious behavior sometimes. I saw some thresold effects that I didn't see with other softwares. At some points, a slight change in the sliders can lead to a very noticeable change in the color rendition. I don't know why, there is maybe something under the hood that we don't know about the way DPL5 handles white balance. Maybe DXO applies some corrections to the colors once we past some invisible steps. There is also sometimes a huge impact of the yellow/blue slider on the green/magenta slider. If you try to warm up or cool your picture by using the blue/yellow slider, you may have to correct the magenta/green after that. I've not seen this phenomenom in a so intense way in other softwares. Maybe it's related to their color profiles, I don't know.

---------------------------

Color rendering :

Here we are. The most overlooked aspect of DXO Photolab. I blame DXO itself for that. They don't make very clear what the software is capable of and how it works. It surely can be found in some documentation, but as far as I remember, it's not the main part of their advertising

One nice thing first : DPL5 accepts custom DCP AND ICC profiles. LR only accepts DCP, C1 only accepts ICC. Good thing. For the most advanced users who like to calibrate themselves or play with various color profiles, just be aware that there is a problem with the black substraction point in DPL5, especially in ICC mode (search for DXO on this page Lumariver manual) that makes the profiles always a little bit more contrasty than in other soft, with crushed blacks. They never corrected it, I don't know why.

I managed to make a decent profile with the "File -> export images for ICC -> export as linear raw", minus the black substraction problem. The "export as realistic color rendering" doesn't work, because it embbed a color space into the Tiff file, which is not how it is supposed to work. But I'm not a specialist in ICC profiles for DXO, so I will let you use that function if you want.

On paper it's the best of both world, but in reality, it's not that well implemented. You better use a DCP profile than a ICC, if you want to use your own.

Generic rendering : you will find here first and by default a color rendering that is supposed to mimic the rendition of your camera. I think that it does a great job with sony files. It looks way more Sonyesque than the horrible profiles that you can find in LR which are supposed to mimic the Sony look. I don't even mention Capture one, which gives only one profile, which is neither close to being neutral, nor anywhere close to the jpeg rendering of the camera, at least for the cameras that I use or used extensively.

Here is a Gif that shows the differences between Imaging Edge (Sony colors then), DXO (generic), C1 (generic) and LR (camera matching standard).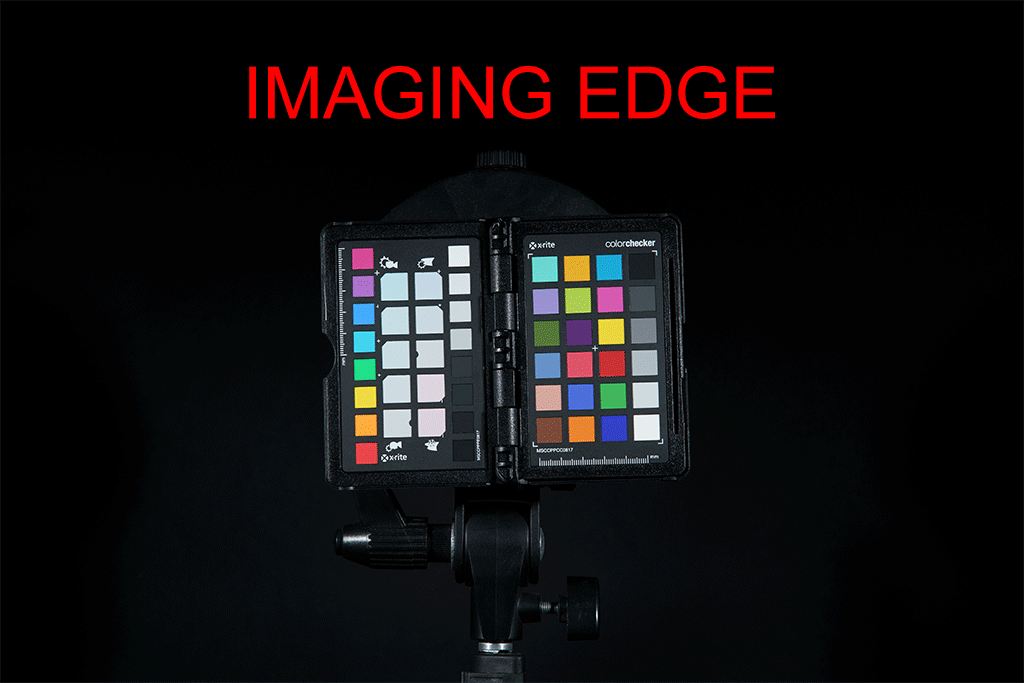 Here is a link with some low res pictures if you want a better look (a GIF is not exactly the best way to look at colors) :

Link

LR is horrible, C1 is way off, DXO seems the closest to me. But DXO curve is a little bit too punchy, that's their thing.

In my opinion, DXO gives also a pretty nice Canon look to canon files, but I'm not a Canon user, even if I like the canon color rendition.

In the same color rendering tool, we find 4 different neutral profiles, each one with a different curve that set it apart from the others :

Neutral color, factory tonality. As far I understand, it's a neutral profile, but with the tonal curve that DXO uses to mimic the in camera rendering. So, compared to the generic profile, it's the same contrast but with different colors.

Neutral colors neutral tonality is very flat.

Neutral colors, neutral tonality v2 is a little bit more contrasty and is an interesting starting point.

Then there is a neutral color, realistic tonality. I'm not 100% sure what it is. It's even flatter than neutral tonality, but it's not a real linear profile either.

These neutral profiles are done for every camera that DXO takes care of. I did a lot of calibration myself, spending dozens of hours playing with calibrated lights, trying to make the perfect set up to shoot my colorchecker passport and after that my colorchecker SG properly, using Lumariver to make the most perfect and/or pleasing profiles, checking for every deltaE that I could minimize with a better set up.

So let's say that I know a little bit about this subject, but not more than that. I don't say that in a false modesty, I'm really still just a beginner compared to a lot of guys around the web who are really psychopaths of the color calibration. But I know one thing for sure : making a good, polyvalent, neutral profile is way, way more complicated than hand holding a colorchecker in the field, taking a picture of it and using X-Rite software. I read that sometimes on various forums, but I think that it's totally wrong for various reasons that I won't explain here. At best it can work in a studio, but there are too many variables into play to make it work outside during your sunday walk.

I can't mesure the deltaE of DXO profiles and they are probably not perfect, but I can say that they look good, close to "neutral", and that camera A neutral rendering looks really close to camera B neutral rendering. They are not pleasing, they are neutral. A gif to show you 4 different cameras with the DXO Neutral profile V2, using this time the chart from DPReview, because I don't own them :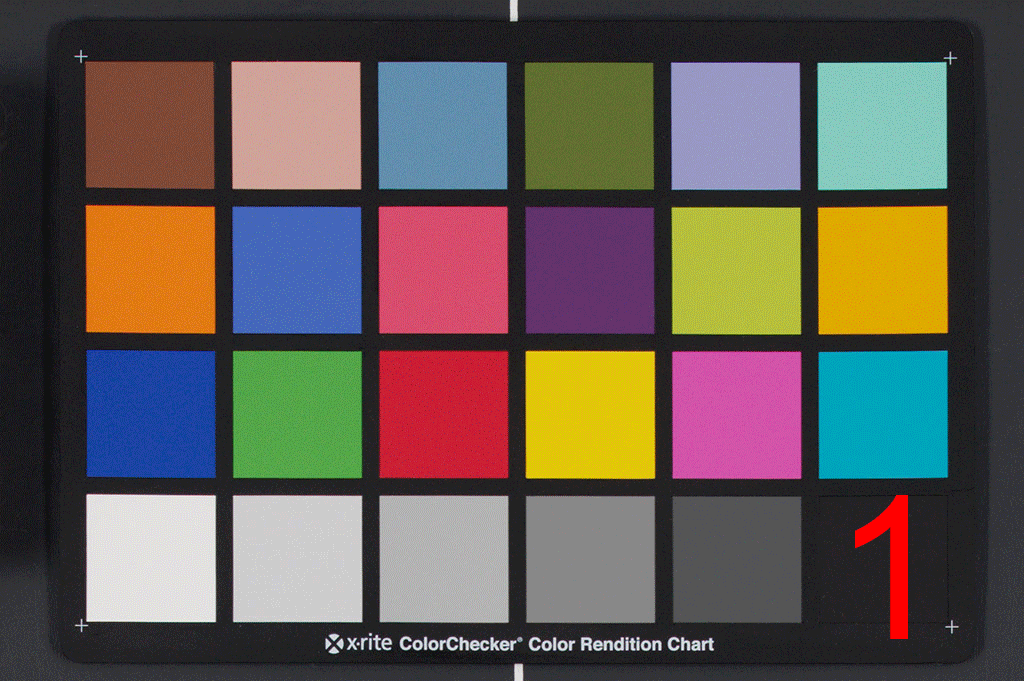 The jpegs if you want to compare (and discover which cameras I used ) :

Link

I corrected the white balance and the exposure to match them, but that's all.

As you can see with these files, there are still some differences between brands, but they are really in the same ballpark. Anders Torger, the man behind Lumariver, says in his manual that color profiling makes for 90% of the rendering of a camera. The 10% remainings are probably caused by different CFA. We can more or less see here this 90/10. Some color specialists out there can certainly do better than the DXO profiles. But the average photographer who doesn't spend a certain amount of time to learn how calibration works, with a chart, a good lighting system, a proper set-up, a really useful software that he understands, this photographer can't do better, believe me. It's worth mentionning that very old cameras might show a slightly different neutral color profile, you will better match different cameras if they are roughly from the same era. They probably changed several times the way they make their neutral profiles in 20 years, and didn't remake the neutral profiles once again of the first Canikon DSLRs that no one uses anymore.

My educated guess is that all the other color renditions available in DXO are based, for each camera, on one of the neutral color profiles. They are probably not profiles, but looks, LUTs on top of their neutral profile. There is always a neutral profile before a pleasing look. One of the first rules when profiling a camera : neutral calibration first, pleasing look after. Even the "camera body" rendering is probably a pleasing Lut derived from a neutral profile. You will see below every profile/look an intensity slider. If you set it to 0, you retrieve the "neutral color neutral tonality profile". Maybe all the looks are based on this one, maybe even the flatter one, I don't know.

One nice consequence is of course that you can use this slider to adjust the intensity of the look you're using. But it allows DPL5 to do a very, very cool thing : you can use every camera calibrated in DXO and give it the look of another, because each of these looks are in fact based on their neutral profile in the first place, which is quite consistent between cameras. It's in fact probably exactly the same principle that Cobalt is using : neutral profiles, then a few pleasing looks on top of them (Canon or Fuji simulations, film simulations). DVLOP is also using this same technique since a few years (I like their film simulations for LR). They built a dual illuminant DCP profile for a lot of different cameras, and their film simulations are looks on top of that. DXO works like that, natively. You can find all of these camera simulations inside the "camera body" rendering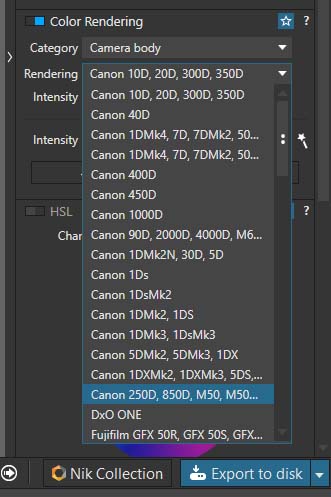 There is not always a look really specific for every camera in DXO, contrary to what you can find in LR or C1. If I'm looking for a Canon profile available for my Sony body, I can find this one for instance :

Canon 250D, 850D, M50, M50 M2, M200, R, R5, Ra, RP.

They could have called it "general look of the Canon cameras released around 2020", but well, they decide, not me. They are not overambitious, they don't try to mimic every profiles found in every camera and I think that it's a good idea.

You have different Canon looks for different cameras of different periods, different Nikon Looks, Fuji looks, etc. They recently added the Fuji Film simulations from recent Fuji cameras. It is still a work in progress, and it's not totally faithful. C1 does better in this area (it's near perfect), but of course, in C1 you can just apply them to your fuji cameras supported. Here, you can apply any rendering to any of your cameras.

It's an important thing to understand here for C1 users. It doesn't work the same way as the profile selection in C1. In C1, you can apply (if you're a gambler) a profile made for a camera A to a camera B. It will never really work because well, it's an ICC profile, not a look. And a profile made for a specific camera A almost never give the same look on a camera B. You can be lucky with 2 cameras with a similar color filter array (CFA), so mostly from the same manufacturer, but that's all you can really hope for. Here, it's different and I have explained why.

So if I resume : you can make different cameras look like each other, using a pretty good neutral profile as a starting point of your processing, or different cameras simulations. All of this inside DXO.

Now the 64K$ question :

"Thanks Ayoul, but are these looks faithful ? Do they look like the jpeg of my old camera ? I loved its output, it had a soul ! When a truck ran over it in 2011, I bought a more recent body. It's more convenient, but since then all my pictures lacks this je ne sais quoi that my FujiCony D50i had"

I let you try and judge by yourself. I don't own all the cameras listed here. The last canon is interesting. Some patches seems slightly off if I compare them to a R5 Jpeg, but even with the color wheel of DXO, you can make a few easy corrections which makes it looks more faithful. Don't flame me if you don't agree and think that all of them are garbage. But my point is just : they are there, and it's a clever implementation. Deciding if it's pleasing and/or accurate is up to you.

There is a general tendancy from DXO : they like saturated colors and contrasty looks. Its in my opinion their main goal : "with a few clicks, let's make their pictures shine!" You will probably more often reduce the saturation of some colors than the opposite. They like to push the saturation of reds, and their greens are a little bit on the blue side.

The 128K$ question :
"Hey, you're right, I love their profiles ! But I don't want to learn this software, I'm comfortable with LR/C1, I just like DXO colors. Where can I find the profiles ? There must be a folder where they store their ICC or DCP neutral and pleasing profiles, like LR and C1 does ! "

Unfortunately, no. There is no folder inside your computer where your DXO profiles are stored, patiently waiting for you to take them on your white horse to live a happy life with you in your LR/C1 castle. Zero, nada. They must be hidden inside a file somewhere. I don't even know if their own profiles are ICC, DCP, or some personal mutant beast. It's like the proprietary softwares : Imaging Edge, Canon DPP, Capture NXwhatever. You won't find any folder called color profile, with all their color profiles waiting for you to take them. It's just the way it is. Maybe a genius nerd could decompile these software or do a fancy thing like that to retrieve their color rendering and convert them, but that genius is not me, and I think that distributing something that you have found by decompiling a software is illegal in most country anyway.

"What about Filmpack ? What does this thing does apart from being illogically required for a few options dispatched in DPL ? Is it not supposed to give me some film simulations ? I heard that it was integrated do DPL once you bought it."

Yes, if you own FilmPack, you will find their simulations under the different films category inside the color rendering panel. Positive films, negative films, black and white films... Honnestly ? I hate most of them. They seem caricatural to me, with enormous color shifts. I even tried the FilmPack 6 version, but no, i really don't like. You may think otherwise. There are just two film simulations that I really, really like : it's their generic Astia and Provia looks. They give a nice punch to the pictures, without horrible hues.

I like their Astia so much that I spent a lot of time copying its rendering using warious softwares. Don't know if it looks like an Astia film, don't care. The good news is : generic Astia, generic Provia and generic Velvia are available in the rendering panel even if you don't own FilmPack. When I read their documentation about FilmPack, they refer to Astia as "an old version of calibration of the Fuji Astia used in a previous version of DXO Filmpack". That's all. Apparently, they are very proud of their others simulations, but this one can be given for free with DPL. I take it.

There is one particularity of DXO Filmpack however. It works on jpeg and tiffs, while the camera body rendering doesn't. The film profiles are integrated with DPL if you own DPL, but FilmPack is also a standalone software, so I guess they wanted to make it work with jpegs or tiffs from other softwares.

Of course, don't expect your Canon files to match your Sony files if you use FilmPack on jpegs or tiffs. The base is different, so the result will be different. The way filmpack works on jpeg/tiffs and on raw files is very different. In raw, from what I saw, it works exactly like the "camera body" looks. It means that they are based on the neutral profile first, and will look more or less the same between brands.

There is another clever tool just below the intensity slider of the color look. It's called Protect saturated colors. It does exactly what it says : it desaturates too saturated colors in your picture. Once again, there is a cursor from 0 to 100, and an auto mode. When you try to make a correct color profile, dealing with ultra saturated colors can be complicated. A punchy profile in daylight may show horrible saturated colors on a dancefloor. It's tricky. Instead of dealing with it directly inside the whatever type of color profile DXO uses, they added this trick. It works, very, very well, and it's a very clever idea. Once again, use it manually if you want a real control on the look of your picture, because DXO also gives us one of their dangerous auto mode here.


Edited on Apr 04, 2022 at 03:56 PM · View previous versions