cgardner




Offline




• • • • •


Upload & Sell: Off

With artificial lighting the quality of the results have more to do with understanding how to use the tools than the tools themselves.

As for the tools, like hammers you have a choice. Speedlights are like a 1lb. claw hammer. You can do a lot of different jobs with a pair of speedlights indoors and out. Studio lighting gear is more like a 3 lb. sledge hammer. It gives you more bang for the same bucks, but it imposes some logistical constraints because it requires static set-ups.

The ideal situation is to have both sets of tools. I shot weddings professionally in the early 70's with a pair of speedlights for the guy who popularized the dual flash method for candid shooting — Monte Zucker. Zucker was also innovative in his use of window light for all the formal posed portraits. His approach was was brilliant in its minimalist simplicity. The only gear we brought to a wedding was: camera, background rotating on a single stand, and a wheeled stand with a reflector for the daylight portaits. For the candids we added a flash on a bracket to the camera for fill, and put an identical flash on the wheeled stand that was used for the reflector.

Window light is the same wonderful soft lighting you will spend hundreds to thousands of dollars to duplicate indoors. For people who want to dip their toe into the portraiture pool I suggest going to Target, buying a $3 piece of 24" x 36" white foam core for a reflector and finding a north facing window. That how I learned portraiture from a master of light and its really all you need to learn the basic concepts of lighting angle and camera angle. See: http://photo.nova.org/Window/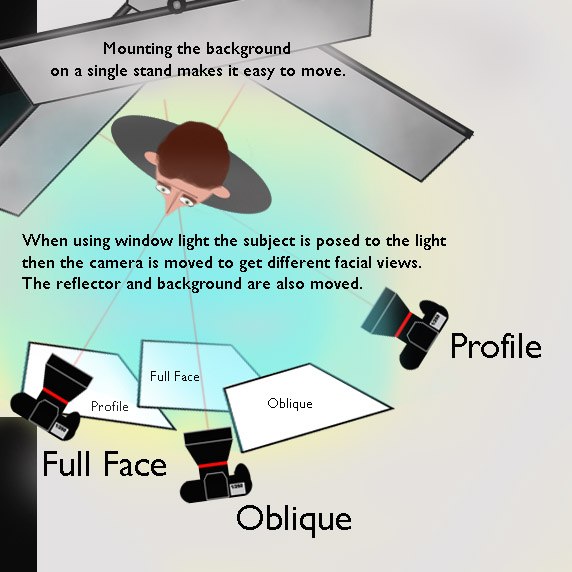 The lessons learned via a window can be applied to outdoor portraits and artificial lighting with both speedlights and studio lights. Like I said the best approach is to have both tools. If you can't justify buying both by the one that will best meet your needs.

The advantages of studio gear vs. speedlights are power, modeling lights, faster recycle and the wide variety of modification options available. They are definitely the tool of choice for portraits, the only difficulty for a hobbyist not using the tools to make a living is justifying the cost for the amount of usage they will get.

I can't say what will work out best for you, only what has worked for me over the years. That was influenced by how I learned using window light and speedlights. I never had the space for a studio or the desire to sell portraits so I didn't bother buying studio lights until I had place where I could set up a studio. When someone needed a portrait I'd use window light, outdoor light and speedlights.

I finally bought a set of four AB800s and some modifers about 7 years ago to experiment with. But having no desire to shoot professionally at this point I do 95% of my flash photography with my pair of Canon speed lights as shown here: http://photo.nova.org/CanonPracticalUsage/ I only use the studio lights occasionally for the Christmas card shot or when a friend wants a studio style portrait. That's primarily because I enjoy candid PJ style shooting more than studio work.