cgardner




Offline


Upload & Sell: Off

| | |
| --- | --- |
| Re: Canon flashes | |
BrianO wrote:

Lest anyone be confused by Chuck\'s statement, he\'s seemingly operating under the assumption that everyone reading this would be facing the same ambient exposure. If he had said \"the practical range is limited to 7 feet when using HSS under full noonday sun in the mid latitudes...\" I might not have posted, but since he didn\'t I feel it important to again state that the range of a Speedlite in High Speed Sync mode will vary depending on the aperture and the ISO setting, and those parameters are dependent on the intensity of the ambient light and the ambient-to-flash balance one is trying to acheive.

I\'m quite good at putting words in my own mouth... and the example used was noon day sun. Brian\'s original statement that Aperture and ISO change flash distance is not correct in that context or for any ambient level. On a overcast day? Yes the range would be greater, but then changing Aperture or ISO wouldn\'t affect that range as it didn\'t on a sunny day.

What changes the flash range outdoors is the INTENSITY of the ambient light the flash must try to match when the ambient highlights are kept under clipping with ISO/Aperture/Shutter. That\'s greater on a sunny day than an overcast day, or if shooting on sunny day in open shade where there is not direct sun hitting the subject or background one needed to avoid blowing out in the highlights. There\'s also no rule saying that highlights can\'t be blown out either. Blowing highlight mean the shaded parts also get lighter and less flash power is needed for correct exposure on the shaded side / greater max. range.

But again, practically speaking, in open shade or overcast days I usually don\'t even use HHS because I can keep the shutter at or below the 1/250 sync limit and get the aperture desired and reap the benefit of the greater power in regular flash mode which makes the use of modifiers (which cut output by 1-2 stops) possible.

My first exoposure \"meter\" starting in photography in the late 60\'s was not electronic, it was the little chart inside the yellow Kodak box with icons of a person standing in sun and shade.

While BrianO loves splitting hairs about how lattitude and sun angle it afffect might affect ambient exposure and flash range in the shadow Kodak seemed to think \"Sunny 16\" and \"Shady 5.6\" predicted results in those two situations close enough, practically speaking.

Practically speaking means that IN SUNLIGHT I could set my camera to 1/100th @ f/16 with ISO 100 film and be assured faces in sunlight would be correctly exposed when I got my prints back from the lab. When I moved into the shadows the chart and remembering \"Shady 5.6\" reminded me to adjust on or more of the exposure variables. I could change aperture from f/16 to f/5.6, a three stop difference, or lengthen the shutter time to 1/25th second to arrive at the same \"Shady 5.6\".

Last time I checked the sun was still working pretty much the same as it was in 1968, which is why I get the same predictable results and still use the same \"Sunny 16\" / \"Shady 5.6\" rule of thumb. What has changed since the days of film in that paradigm is the ability to change ISO at will and to see the results of the exposure immediately.

As in 1968 don\'t use a camera meter outdoors in a situation like that test shot because I know the sunny side will be \"Sunny 16\". So I set the camera to the Sunny 16 equivalent, take a test shot and look at the results WITH THE CLIPPING WARNING ON. If I see clipping in highlights I adjust whichever variable I\'m not using at the \"creative constant\".

\"Creative Constant\" may be a term you are not familar with. No surprise there because I just made it up. I really annoy Brian when I invent new terms.
... so let me define it:

There are three exposure variables: ISO, aperture, shutter. When the primary goal is shallow DOF to create visual separation APERTURE becomes the \"creative constant\" the other variables are adjusted around. When the primary goal is either freezing motion or a creative blur effect of subject or background (with panning) the creative constant is the shutter speed and aperture / ISO are adjusted as needed for the desired exposure, which for me is detail on the solid white non-specular highlights, with few exceptions.

ISO is almost never a creative constant. It is usually the thing that is adjusted last in a creative situation after making the decisions on DOF and stopping motion to arrive at the technically correct \"Sunny 16\" or \"Shady 5.6\" exposure. I qualified that with \"almost\" because a varible that results from ISO speed is amplification noise in an image.

For example in Av mode at ISO 100 indoors in a dark room the shutter will \"drag\" forever until there\'s enough light captured in the white highlights. At ISO 3200 the metering closes the shutter faster because it knows the A/D converter will amplify the smaller number of photons it managed to capture in the highlights while the shutter was open a shorter time. There is more noise in the shadows because more dark values in the scene fall below were the sensor site records a signal over the residual noise.

The sensor sites are \"dumped\" of charge like water in a bucket and the noise is what\'s left over from the last exposure. Part of the A/D process when noise reductions is used is to to subtract a \"black frame\" map of just the noise (i.e. like a long exposure with the lens cap on) from the scene image. But in high ISO shots so much image content hovers around the noise threshold it can cause a loss of shadow detail vs. a shot where there is adequate light in the shadows. That\'s why regardless of ISO used it\'s better to err on the side of overfilling shadows with flash at capture. They might be recorded incorrectly perceptually and technically as gray SOOC instead of black but the higher S/N ratio will make them less noisy when darkened back to their normal black value in PP.

The appearance of the results change in the photo because at ISO 3200 the camera\'s analog/digital converter amplifies the signal more. That amplification affects what is called the \"Signal/Noise\" ratio. Without getting too technical it\'s like the drops of water that cling to the sides and bottom of the bucket when it is dumped. If there are 18 milion buckets the amount of water remaining will vary. On the sensor it residual voltages in the \"empty buckets\" (shadows areas not recording a signal) which create that random rainbow pattern of \"noise\" the shadows.

High ISO \"noise\" is similar in appearance to the courser grain structure of high ISO film emulsions and it the goal is to create the look of ISO 400 Tri-X or Kodachrome shot above its rated speed and \"push\" processed then a digital photographer might set the ISO higher than 100 outdoors in sunlight first as the creative variable, then adjust aperture narrower and shutter duration shorter to get to the \"Sunny 16\" technically nominal expoure.

My Decision Tree

In a backlit sunny portrait situation my first creative constant decision is aperture to control DOF. I rarely shoot action like race cars or airshows so my secondary creative constant decision about shutter is just whether or not it will be fast enough to prevent blur.

The DOF decision is affected by my choice of flash mode and shutter sync limit. When I need maximum range for the flash in the foreground I will temper my desire for insanely great Bokeh (why I bought those expensive 2.8 L lenses) for the sake of flash range and start the exposure process by setting shutter to 1/250th, ISO to 100, and aperture to f/11 to take the first shot. That\'s \"Sunny 16\" adjusted for the change in shutter.

You\'ll notice that \"Sunny 16\" should actually be 1/200th @ f/11 at ISO100. But what I discovered by exposing per the clipping warning is that the ISO indicator on the camera isn\'t accuracte. The actual speed of the sensor is about 1/3 stop faster. So 1/250th while not \"theoretically\" correct is in fact the shutter speed needed to retain detail on the sunny highlights. Any variation in lattitude, etc. is taken into account by adjusting from that starting baseline when I look at the first shot\'s clipping warning and right side of the histogram. I want to see no blacked out areas and no big flat gap on the right side of the histogram (an indication of underexposure).

I just didn\'t fall off the back of the truck holding a camera and as I mentioned in the follow up environmental variables will affect both the amout of light and the color temp of the shadow side. \"Average\" conditions are the \"Shady 5.6\" baseline Kodak recommends. Shadows will be lighter if more sun than average is bounced into the shaded side buy the ground, white wall, brick wall (which will also ad a nasty red cast), etc.

That\'s exactly why in most situations I put my flash in ETTL mode at FEC=0 and take a test shot. I didn\'t in that test because I was testing full power range. But here\'s a test I did earlier with Av / ETTL mode with the objective of seeing how well the metering \"guessed\" at EC=0 for Av and FEC=0 for ETTL:

The test was done at 11AM at 34 north lattitude. I started with a baseline shot faceing west using only ambient lighting, setting exposure as described from the Sunny 16 baseline with adjustment per the clipping warning on the white towel: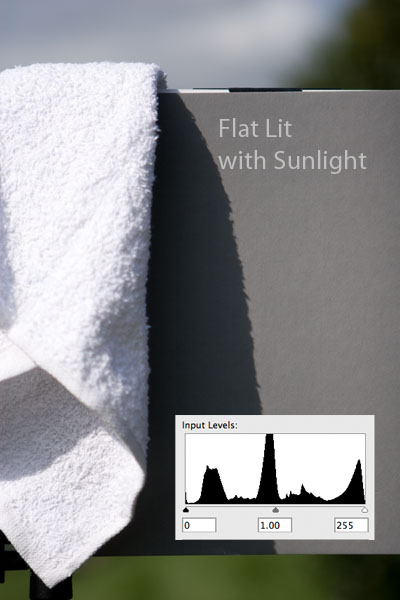 The caption says \"Flat Light\" but that\'s not correct it\'s directional but most of the content in the foreground is \"key\" lit by the sun over my left shoulder as I took it. The \"fill\" controlling how dark the shadows on the gray card the towel casts is coming from the \"Shady 5.6\" skylight. Not many areas without detail because the sensor (a 20D) as a range long enough to cover a scene which is mosting in the \"key\" light.

Here is the same light conditions seen facing East: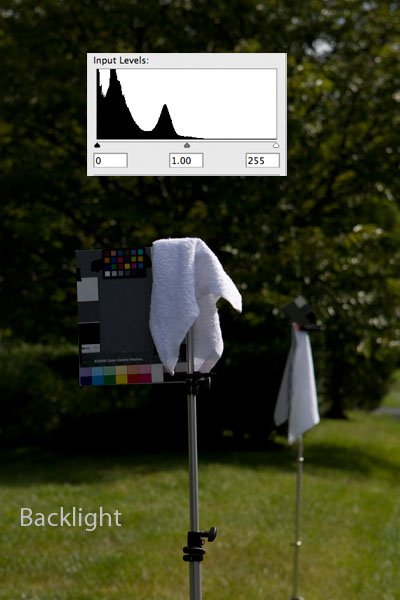 EC=0 in Av mode blew out the white towel because the cameras evaluative metering was trying to make the center of the frame look \"normal\". Above I dialed in - 2 EC to get the white towel under clipping.

Next, I reached up and turned on the flash over the camera on my bracket in ETTL mode at FEC=0 and got this result: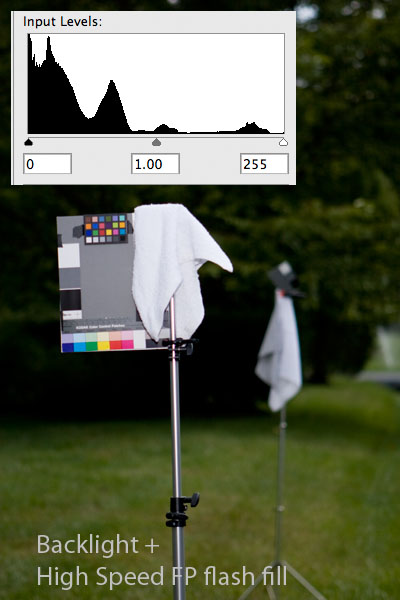 This shows the histogram on just the card in the foreground which has a full tonal range: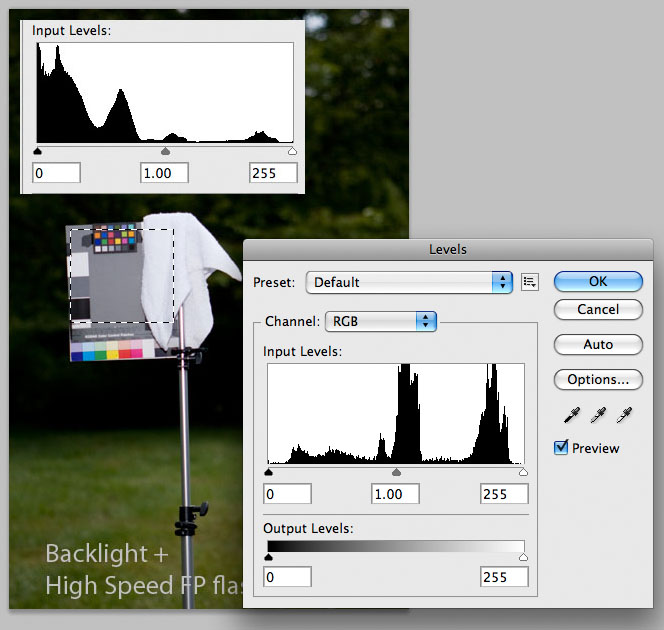 The histogram indicates near perfect exposure and in the RAW SOOC neither the sunny or flash lit parts of the white towel are clipping. Perceptually it looks a bit overexposed, in part because the flash overpowered and canceled the modeling of the skylight seen (but underexposed) in the ambient only shot. That\'s the cause and effect I mentioned earlier and why I use two flashes outdoors.

If using two for that shot I\'d put the slave at the same angle as the skylight\'s \"key\" modeling vector, set the A:B ratio to 1:2 and take a shot at FEC=0 and get similar results. That\'s exactly what I did in the dual flash test shot of the in-house model in the dual flash obilque pose: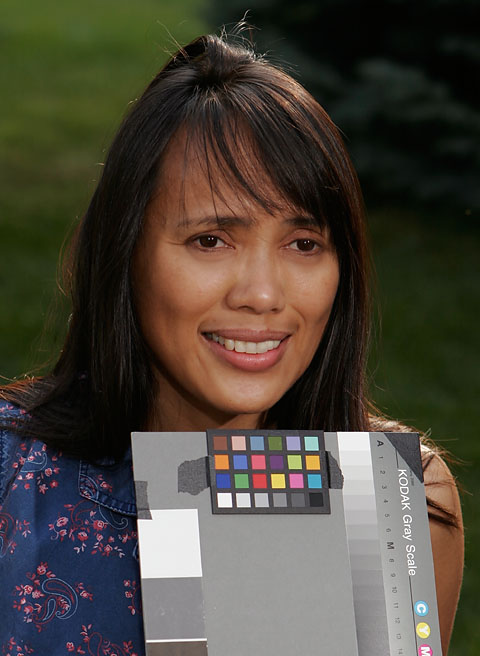 Being a technician and technical manager in printing for a living made me very process control oriented. When testing I make one factor constant, such exposure of highlights under clipping. Which allows me to see the effect of the other variables.

In the first ambient shots facing West and East the fact I exposed for highlight detail (not what the meter said was correct at EC=0) allowed me to see how my 20D sensor range handed the contrast of \"flat\" (mostly highlghted) and backlit (mostly shaded) scenes.

Once I dailed in the \"Sunny 16\" expsoure with - 2 EC in Av mode to keep detail in the highlights of the backlit scene that became the constant for comparing how well the flash metering determined how much power to output in HSS mode to nominally expose the card in the center of the test shot and similar toned face of the in-house model.

What that test showed me is that if you first EXPOSE HIGHLIGHTS IN AMBIENT BELOW CLIPPING PER THE WARNING, the flash metering at FEC=0 nails the exposure on the front side nearly perfectly. It\'s damn near a perfect match to the sunny side technically (same eye dropper reading in the RAW) with just a slightly higher reading on the sunny parts. But to be PERCEPTUALLY normal I would expect the shadows to look darker that the sunny parts and if the goal was the match the chart more normal (not test ETTL flash metering in HHS mode) I would have dialed it -1/3 to -2/3 FEC to cut back the flash a bit.

If using manual flash in that situation?

I\'d start at 1/2 power, take a shot, look at the results...
if under exposed in front change flash to 1/1
If over exposed and clipping change to 1/4
Take second test shot
-- adjust as above
Take third shot and evaluate... I will usually be perfect

In computer programing parlance that\'s called a binary search. Starting in the middle reduces the steps needed to find the target value.

That\'s how I roll whenever using M flash mode. Even when using ETTL ratios I have the flash pre-set so A and B flashes are set to 1/1 power. Why 1/1 instead of 1/2 in the example above?

As mentioned previously in ETTL mode you really never know what % of power was used in the last shot. For example I might be shooting at FEC=0 from 15ft. with HHS and the results are underexposed. I dial in FEC= 1 but nothing happens. Why? Because at FEC=0 the flashes were already firing at or near 100% capacity.

When that happens I press the mode button from ETTL to M and fire off a quick test shot at 1/1 on both fill and key. Looking at the results of that full power shot tells me which flash is out of range at 100% power.

For the OP, that\'s something you might want to do if using a 580ex Master and 430ex slave which is weaker. It can\'t be done with a 580ex / 420ex combo because the 420ex is ETTL only can can\'t be switched to M mode from the Master.

I did the HSS range test at 1/1 to find the range limit. Now I know that if shooting much beyond 8 ft. I shouldn\'t use HSS. I\'ll switch to M mode at that point, set shutter to 1/250th then adjust aperture for correct highlight exposure in the ambient lit highlights then in the shadows adjust flash power manually or in ETTL with FEC until it \"looks right\" for the context of what I\'m shooting and how I want to depict it creatively.

WIth single flash I usually use M for flash adjustments if shooting in one spot to eliminate the frame-to-frame metering variable. I\'ll do the same with dual flash in static situations controlling the ratio and scene-sensor match on what the flash hits with the relative distance of the fill and key set at the same power.

Some might not have grasped that in the two flash 1/1 test the fact the \"key\" is at 6ft vs the \"fill\" at 10ft is what is controlling the lighting ratio on the flash lit target.

In the test I moved my camera position with fill over the camera until I saw shadow detail in the playback. I wasn\'t going for an exact eyedropper reading on the black patch of the color chart because I had no way to measure that. I just looked for detail on black objects like the border of the chart and tape holding it and the black A clamps and stant locks. Then I moved the key light in until the highlights it created over the skylight and flash fill were below clipping. That\'s why it wound up at 6ft, not 7 or 5.

It is because there are so many variables involved I have come to make all my critical exposure and tonal range / ratio decisions with my eyes and brain based on the technical and creative goals for each shot using the new methods digital allows for process control:

Playback of the results (visual evaluation of detail on white / black objects, scene and test targets)

Clipping warning (highlight exposure decisions)

Histogram:

Right side gap = underexposure
Left side running off = scene exceeds sensor range (when highlights exposed nominally)
Left side gap = scene shorter than sensor range (e.g. overcast / foggy conditions / open shade)

Middle part of histogram: overall distribution tells me if scene is lighter/darker than average. Not really a factor in my exposure decisions.

I always expose for highlight detail and use flash for full range in foreground when possible. When not possible I compose shots with sun behind me so all important content fits sensor as in the \"facing West\" test shot at 11AM.

Because of my situational awareness of light if shooting a soccer game I will stand on the side of the field where sun is over my shoulder for the action shots so black and white uniforms fit the range of sensor better, but for a close up of a player put sun to their back and use dual flash in front to record a full range of detail: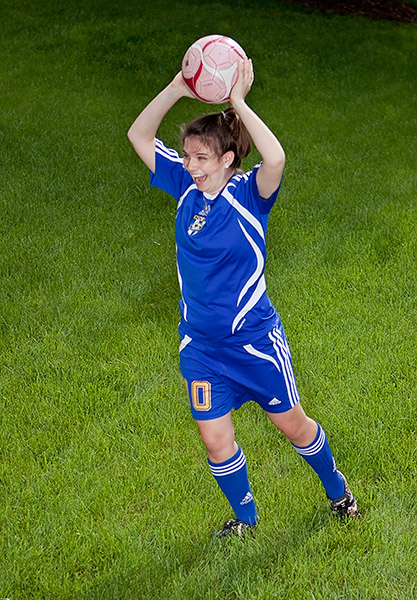 Flash configuration for shot above: