Carl Auer




Offline


Upload & Sell: Off

| | |
| --- | --- |
| 4x US Olympic Gold Medalist Missy Franklin swims for Regis Jesuit against Highlands Ranch | |
So the other day (Monday) I get an email along with all the other Denver area MaxPreps shooters that Missy Franklin was going to be swimming at Regis Jesuit against Highlands Ranch on Tuesday and Cherry Creek the following week and that there were limited media spots. If Maxpreps wanted coverage, they needed to get in now. The meet was at RJ and about 30 miles and close to an hour away from me. I am on the northwest side of Denver, and the school is on the south east side. Other shooters were closer to the pool than I was, and as much as I wanted to shoot the meet, I decided to let someone else have it. But no one was jumping on it. There were a couple, I might shoot next weeks meet, but not tomorrows. So finally I said to myself, \"REALLY? A multiple gold medalist at last summers Olympics swimming for her high school and no one wants to shoot it? REALLY?\" So I jumped on it.

I headed down to Aurora, and found the school. I got their early so I could scout locations, but found out that because of Missy swimming, media were were stuck over by the scorers table and could not get down on the deck. No flash/strobes allowed for the start, so I had my 7D with 70-200 2.8 set at ISO 2500 and my 1D MkII with my 120-300 2.8 and my 580 EXII bounced off the ceiling (inflatable white dome) set to either 1/4 or 1/2 power in manual set at ISO 800. I shot both schools but my breakup was 75% Missy 25% everyone else.

The ambient light sucked. 8 metal halide lamps (2 in each corner) pointed up. Cycling lights and high, HIGH ISO. Yuck.

1. Missy and a teammate having fun talking about the Justin Bieber concert the night before (I never ever thought I would ever type Bieber)







2. Missy loosens up her arms prior to the start of one of her 4 heats.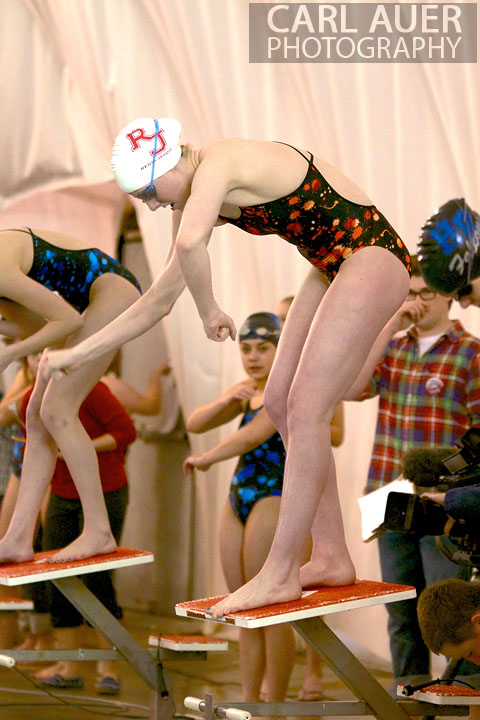 3. Next three photos are of Missy in the Butterfly. No deck shooting so I could not get the classic head on shot.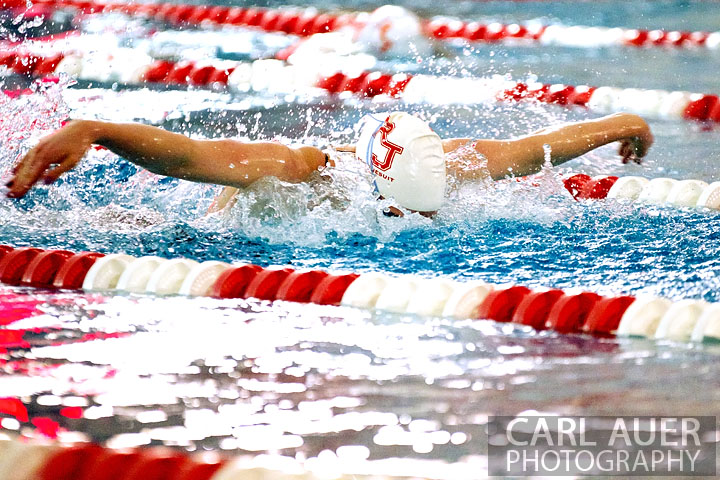 4.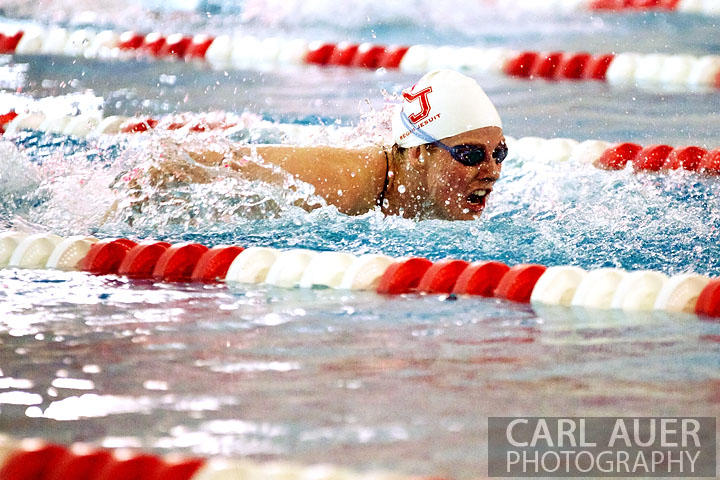 5.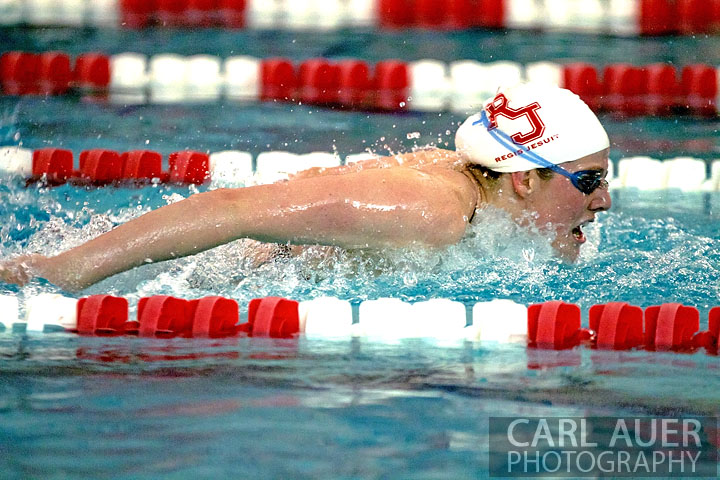 6. Next two shots are of Missy swimming the Backstroke during a IM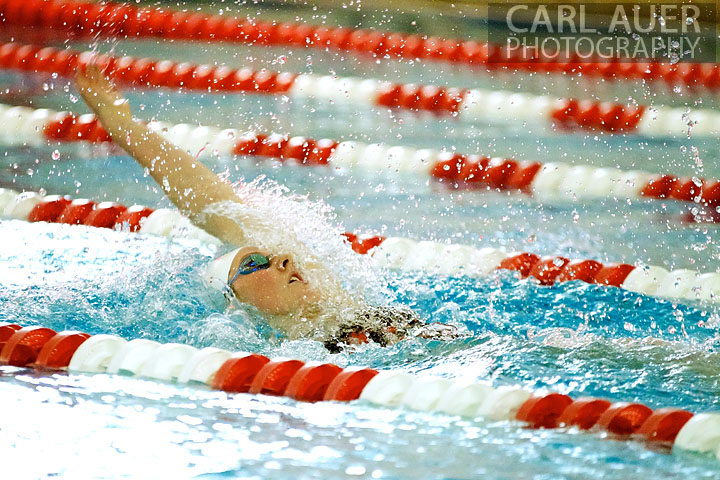 7.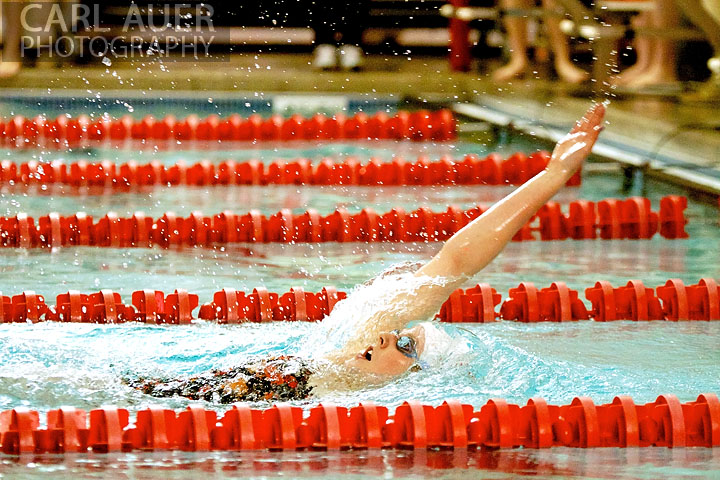 8. Missy swimming the breast stroke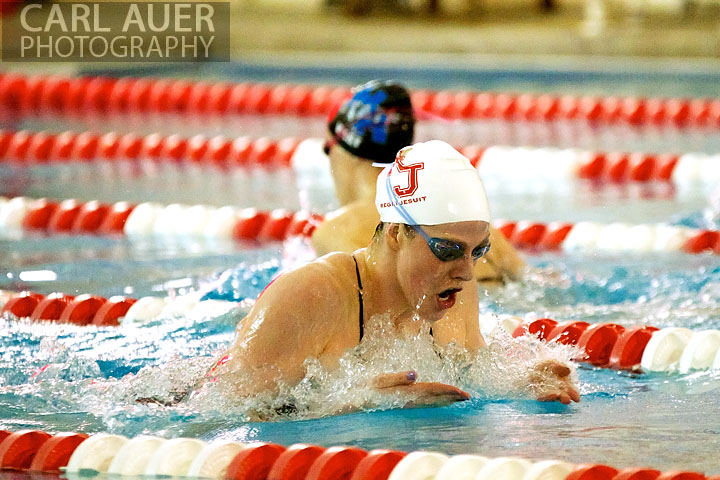 9. Congrats to the opposing team for such a good race (Missy finished about a pool length minimum ahead of everyone)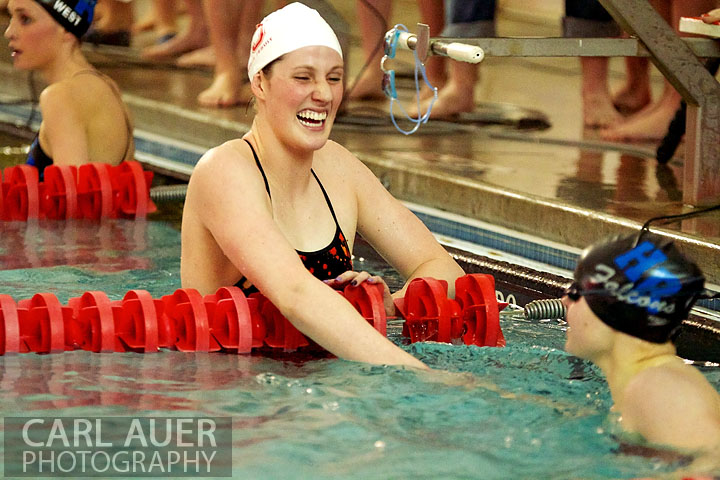 10. Cheering on a teammate







11. Cheering on a teammate in the 400 freestyle relay







12. Opposing team swimmers all wanted photos with an Olympian.