Depp




Offline


Upload & Sell: Off

| | |
| --- | --- |
| Re: MF Super Telephoto Lens ?? | |
The Nikkor 500mm f4 P IF-ED AI-P & the Nikkor 600mm f4 IF-ED New AI-S are both sharp wide open and do well on digital bodies.

There are also few 400mm Nikkors that have excellent performance on digital bodies.
The Nikkor 400mm f2.8 IF-ED AI-S and the 400mm f5.6 ED or P.C. versions.

http://www.naturfotograf.com/lens_tele.html

Nikkor also made a few zooms that are fairly sharp on digital bodies.
The Zoom-Nikkor 200-400mm f4 ED AI-S and the Zoom-Nikkor 180-600mm f8 ED AI-S.

http://www.photosynthesis.co.nz/nikon/serialno.html#500
http://www.naturfotograf.com/lens_zoom_00.html

Third party lens builder Koburi built a very solid 120-600mm f5.6 that does fairly decent...these were usually sold by Vivitar and Soligor gmbH (Germany)...the Vivitar 120-600mm f5.6 version can usually be found on ebay cheap.These are fairly sharp at the long end.
http://www.pentaxforums.com/userreviews/vivitar-120-600mm-f-5-6-8-zoom-lens.html

Koburi built Vivitar 120-600mm 5.6 racked out to 350mm







Pentacon 5.6/500 can usually be found on German ebay site...the Pentacons are fairly sharp with decent contrast...but they are a monster of a lens.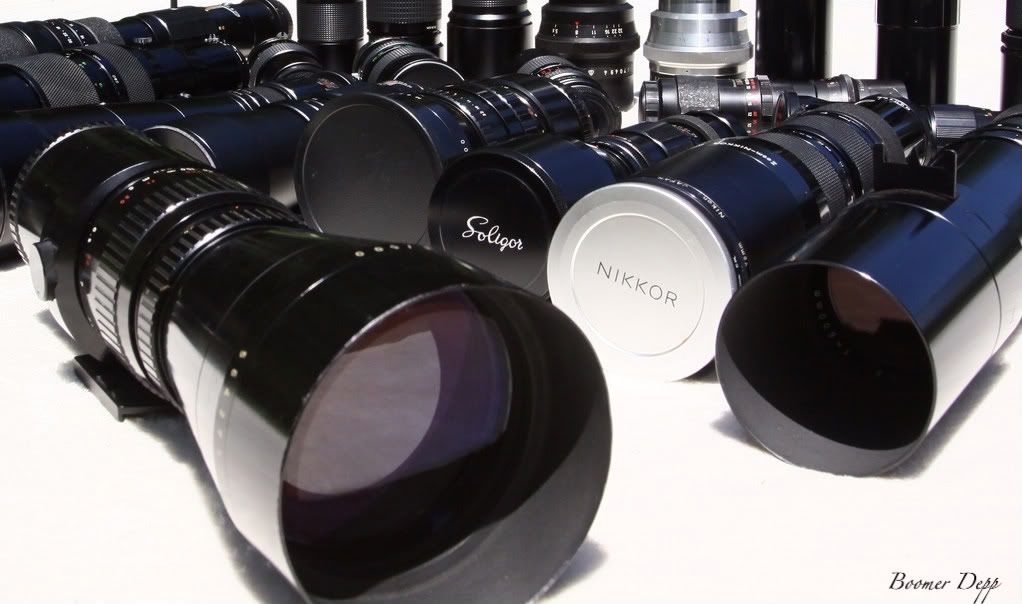 Novoflex made some sharp super telephoto lens from 400mm to 680mm...tried a few of these,they are indeed sharp
Century PrecisionOptics also made a 500/3.8 & a 5.6 version,a 600/4.5,a 800/4.7,a 1000/8 and a 1200/6.8...tired a few of these,they do surprisingly well.
http://web.archive.org/web/20061118181648/medfmt.8k.com/third/cult.html


Tamron made a few primes in their adaptall-2 mount like the 300/2.8 and the 400/4 and the 200-500/5.6
http://www.adaptall-2.org/lenses/SP_Adaptall-2_LensIndex.html

Pentax made the 500/4.5 which is supposed to do OK...but I\'ve never tried this lens...also heard the mount usually needs tightening on these...several sources for doing this operation are available on the net.
http://www.pentaxforums.com/lensreviews/SMC-Pentax-K-500mm-F4.5-Lens.html

Tokina made a 300mm f2.8 and a 400mm f5.6,also a 150-500mm f5.6 zoom that started to get soft above 300mm....never tried any of these.