timballic


Offline




• • •


Upload & Sell: Off

| | |
| --- | --- |
| p.1 #1 · p.1 #1 · OM Zuiko 100mm F2 cf. Zeiss ZE Makro Planar 100mm F2 | |
I have changed the title I first posted this under ,"Some 100mm comparisons. Part II", to help those searching for information about the OM Zuiko 100/2, as there is so little on the web about it.

In Pt I, 4-5 months ago, I compared 4 x 100mm-ish lenses: http://www.fredmiranda.com/forum/topic/1096558

Tokina 100/2.8 D Macro
OM Zuiko 100/2
Carl Zeiss Sonnar 100/3.5
Nikkor 105/2.5 Ai

Following these tests I sold on the Sonnar and Nikkor and kept the Tokina and Zuiko.

This week I secured a Zeiss ZE Makro Planar 100/2.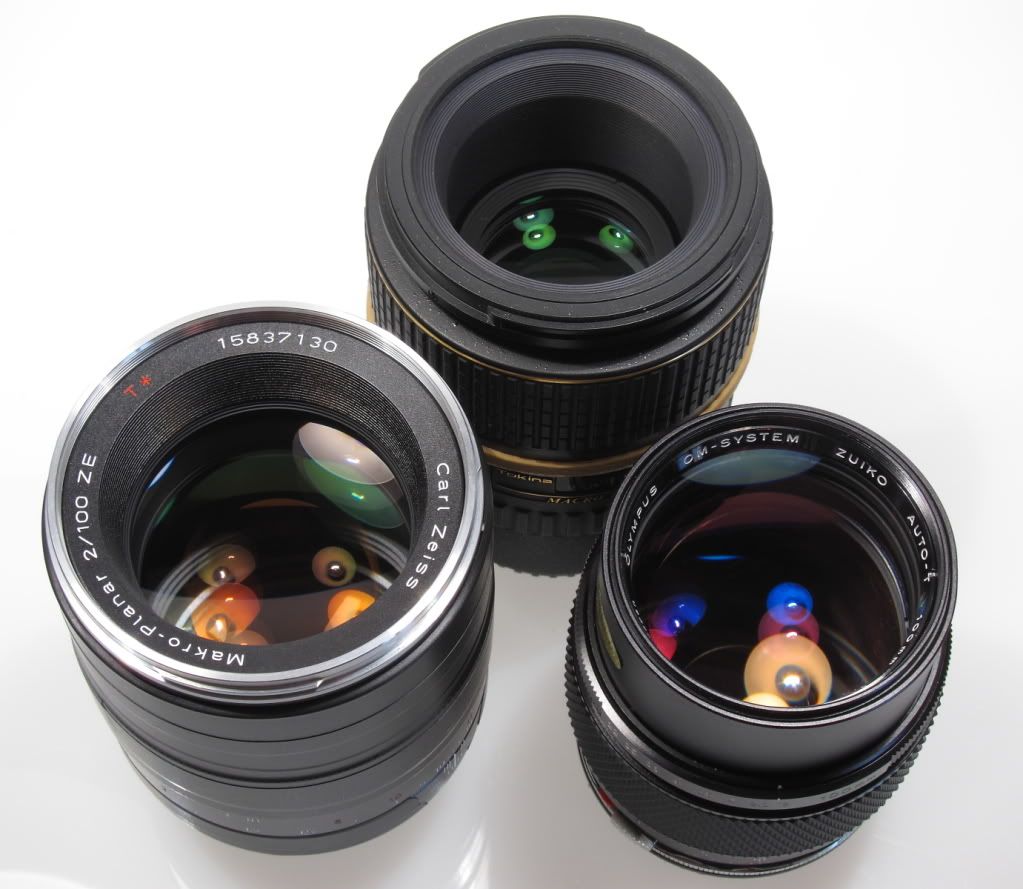 I've added the rubber bands to dampen the Tokina's twitchy manual focus, (it's made a big difference to it.) The red band prevents it from slipping back into auto mode.

The ZE Makro Planar I've protected with black insulating tape as I tend to be a bit rough with my lenses and
I feel the finish is rather less durable than that of my Zeiss Contax lenses. I also added the orange mount locator spot as there is nothing on the Zeiss lens barrel only the red dot on the mount.

Straight out of the box, my first impression of the ZE was "What a rubbish lens cap for such an expensive lens"! The Tokina and Olympus ones are far better as are Canon, Nikon and Contax ones, in fact I haven't come across such a pathetic one from any other manufacturer!

The next impression (after the weight, 700g, which I was expecting) was how much snap the focus has at F2, then how cool the image is at F2, (that's cool as in "blue"!)

The next thing I noticed was the noisy diaphragm adjusting in live view, much noisier than the whisper quiet Tokina, in fact I thought it was a fault until I checked that the the Tokina also did it....but silently!.

Anyway, yesterday in hazy sun, I revisited the churchyard to start the comparisons, which I should start to upload in a day or two..

*Watch this space*



Edited on Mar 09, 2013 at 09:35 PM · View previous versions