KibblesNbitz




Offline




• •


Upload & Sell: On



--------------------------------------------------------------------------------------------------------------------------------



here's my 24-105 that was saved by a hoya pro1d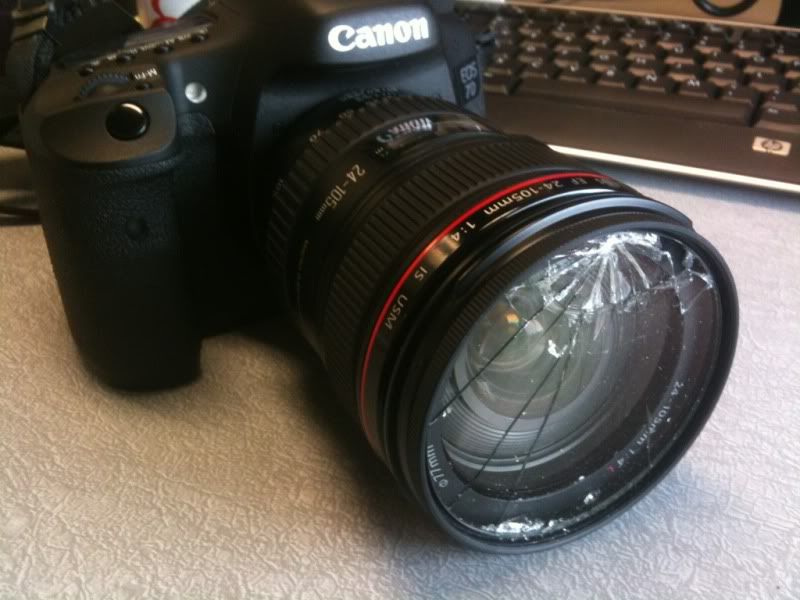 ------------------------------------------------------------------------------------------------------------------------

How do you know your lens would have been damaged without the filter? Do you have any idea just how tough the front elements of most lenses, even the cheap ones, are? I don't see how people can claim a filter "saved" their lens, when in reality, it just looks that way. Of course the single piece of glass is going to shatter, it doesn't mean the front element would.

I seriously recommend the OP and everyone else watch this video:

Now, that's one of the cheapest lenses Canon makes, and its relatively fine considering what it went through.

I've said it before with the filter debate and I'll say it again. For the price of filters these days, you are very likely to be much better off if you just buy an insurance policy instead. A good policy costs peanuts ($80-$100 or less per year) and it covers ten times the amount of money. A $80 a year policy will usually cover at least $6,000-$10,000. Additionally, a good insurance policy usually covers everything under the sun, from theft to drops and falls, to water damage, and even your own stupidity (insert stupid situation here) In other words, for the same amount of money, and more than likely less money, you can have insurance coverage for all of your lenses, that will completely replace the lens or pay for repair (likely to just replace with the cost of repairs these days), instead of dealing with a shattered filter, bent filter ring, scratched front element from the glass shards hitting it, etc...