jcolman
Registered: Feb 21, 2008
Total Posts: 6308
Country: United States
Inga wrote:
Ian Ivey wrote:
It's one thing to use a three-light setup on an open floor; it's another to use it with a tree in the middle of the floor. I think the OP is right to be at least wary of the shadows the tree is likely to cast.

Inga, any way you could post a diagram of the space? And how low-hanging are the bottom tree branches?


Thank you for jumping in on this discussion Ian. Much appreciated.

Here is a quick iPhone pano of the courtyard. I am standing somewhat toward the back of where the dancefloor will be set up (removable flooring). The bride and groom table will be set up under the verdandah straight ahead. There will be tables of guests all around the tree and even on the dancefloor until the dancing starts. Behind me is 7-8' high limestone wall the will bound the edge of the dancefloor. You can see one string of electric lanterns on the left. There will be at least one string of paper lanterns over the dancefloor, and fairy light on the verandah structure.

Dancing shots I'm not that concerned with really. I have the freedom to move lightstands around and try different angles etc. It's getting shots of the bridal table during speeches and earlier in the night that has me more concerned. Also getting candids during cocktail hour (which will be just after sunset) will most likely be too dark for natural light.

When people say getting the light further back and using the inverse square law to get more even exposure, there is obviously a limit to how far back you can reasonably run speedlights and still get effective output while getting good recycle times. Is there such a thing as a "good working distance" for this type of cross-lit setup in an outdoor setting?



You can easily set up two cross lights to cover most of the area in the middle. A good working distance for speedlights is about 20-30' from each light. This means you can have your lights 40-60' apart and still get good coverage with the lights set to about 1/8 power. You might even be able to set to less power. The lights in my examples were probably set to 1/16 power and they are not powerful lights. The point is to add just enough light to get a good exposure on the subjects while underexposing the ambient light by a couple two / three stops.

Use your third light as a movable light to put light where you need it, depending on what's going on. If it's not windy, I would stick an umbrella on it to soften the light, or have an assistant hold it. You can also use some on-camera fill flash along with your off camera lights, assuming you are set up for this.

Honestly, what you have here is a pretty easy lighting situation. It's compact and you will have some nice ambient lights to help give depth to the shots.

Here are a couple of shots from a beach wedding I shot last year. My two speedlights were about 100' apart. I did have a little bit of ambient light from the lit dance floor, but not much.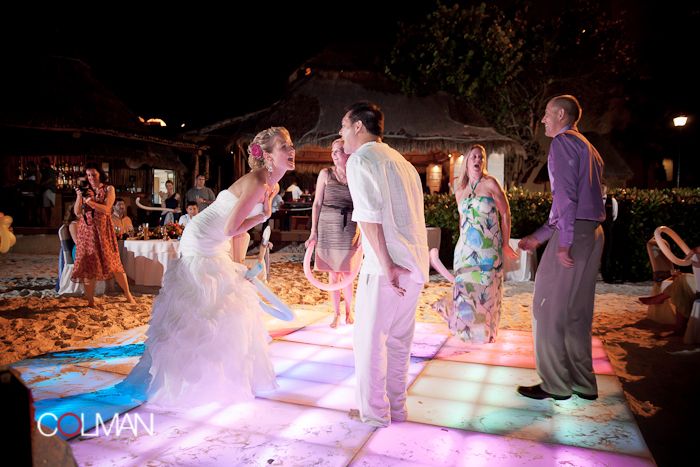 You can see one light firing on the left. The other light is on the right, out of frame.