Bifurcator




Offline


Upload & Sell: On

| | |
| --- | --- |
| Re: External HD crashed | |
Bifurcator wrote:



Here\'s what the 2-drive 6TB RAID0 stripes profile like. This is with lots of data already on too.
With a 3-drive RAID0 stripe I get about 750MB/s and with four drives I get close to 1GB/s.
And of course with 4 of these drives we are talking about 12TB of storage space for $400.
Aaron D wrote:
Holy crap! 500+ MB/s write on a 2 drive RAID0?

I have a question for you sir. I have been toying with the idea of building something to capture uncompressed 1080 video. We\'re talking close to 200MB/s of bandwidth at 24bits of color depth. What kind of write speed are you getting on files in excessive size? Say 500MB and up? Have you tested sizes this large Bif? These are \'cudas, correct?

How are you getting 200+MB/s out of a single, rotary type, HDD
What kind of controller are you using if I may ask?

I get the same for large files; about 4000MB/s when I drag and drop files over 5GB and time it. The controller isn\'t important here I think. I guess any decent on-board controller from 2010 onward will do the job fine. Most of them are 6Gb per SATA port and that works out to a max of about 560MB/s real-world with probably a system bandwidth limit of around 1.6GB/s. The controller in this particular box is 3Gb and the real-world limits are 285MB/s per drive port with a system limit of about 880 to 900MB/s and even that is enough for uncompressed 2K 4:4:4 12bit. With just these two drives I can almost get there now. I can do about 20fps at that and achieve the fell 24fps if I drop it down to 10bit - still within most professional editing standards.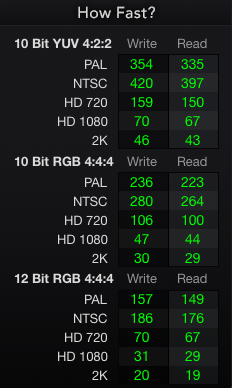 BlackMagic Disk Speed Test





I think the drives are maybe the most critical factor these days. As mentioned I\'s using the Seagate Barracuda ST3000DM001 drives. I had just finished reading a tech write-up on these which praised them for for their near workstation grade specs when I saw a pile of them at a regular department store for ¥9,000 (about $100) each so I bought the lot of them.
I think those prices are reproducible with a little mouse-work tho. Here\'s what the system reports on one of them:


ST3000DM001-1CH166:

Capacity: 3 TB (3,000,592,982,016 bytes)
Model: ST3000DM001-1CH166
Revision: CC43
Serial Number: Z1F0VHVT
Native Command Queuing: Yes
Queue Depth: 32
Removable Media: No
Detachable Drive: No
BSD Name: disk5
Rotational Rate: 7200
Medium Type: Rotational
Bay Name: Bay 2
Partition Map Type: GPT (GUID Partition Table)
S.M.A.R.T. status: Verified

Volumes:
disk5s1:
Capacity: 209.7 MB (209,715,200 bytes)
BSD Name: disk5s1
Content: EFI
disk5s2:
Capacity: 3 TB (3,000,249,008,128 bytes)
BSD Name: disk5s2
Content: Apple_RAID
Boot OS X:
Capacity: 134.2 MB (134,217,728 bytes)
BSD Name: disk5s3
Content: Apple_Boot