JohnJ




Offline




• • • •


Upload & Sell: Off

RustyBug wrote:
Been curious @ enlarging lenses, but never pursued ...


They say curiosity killed the cat, so maybe that's for the best, ie not having pursued them, as you can waste lots of money trying different things and not really achieving anything. Some enlarging lenses are quite interesting to use, and therefore worth while IMHO, but the vast majority are in about the same ball park and not worth the time, money or effort. I use them for close range/macro stuff but also for medium distances. Many of them are not suited to distance/infinity use as they are generally corrected for specific magnifications.

Optically the most interesting lenses are (generally) the CHEAPEST, no-name, 3 element lenses because of their excessive aberrations. Some have swirly bokeh, poor edge sharpness etc. all of which can be useful in the right hands. These will often set you back a whopping $5-15 so can be a bit of fun to try. The usual fungus is free. The opposite end of the spectrum is where the APO EL-Nikkors, APO-Rodagon-D (not really an EL lens) and similar enlarging and process lenses reside. The Nikkors are very expensive, so much so I half expect to see them on celebrity coffee tables instead of Leica's for their 'look-at-how-cool-my-home-is' style shoots in the glossy mags.

RustyBug wrote:
... are the adapters same/different from regular lenses (EF mount) ?

You need to provide a helicoid as enlarging lenses have no helicoid of their own. Helicoids are available in various sizes, ie extension, and you can normally get infinity focus easily with the right helicoid. A Helicoid typically has an M42 mount so you then need an M42 to EF adapter to fit the Helicoid to your camera.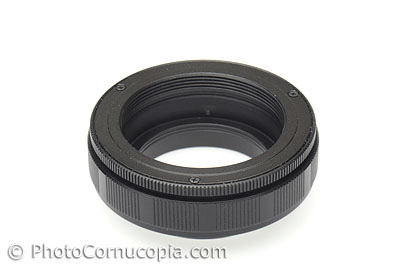 A Meopta Meogon 2.8/80 fitted to a Helicoid. Unfortunately most enlarging lenses are quite slow but the Meogon is one of the fastest enlarging lenses that I know of and has some quirks about it that make it interesting to use. F3.5 75mm lenses are a dime a dozen and only 1/2 stop slower, so are good value.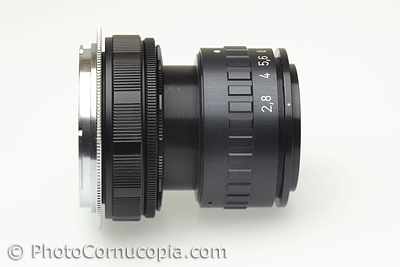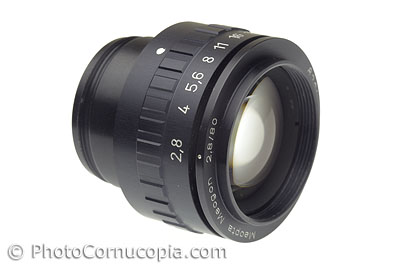 You can also use a bellows for close focus shooting.