k-h.a.w




Online




• • • •


Upload & Sell: Off

telyt wrote:
Light weight for hiking and kayaking, also minimal loss if dunked in the lake.



Thanks Doug.
I am always amazed and admire your skill in handling these Leitz Telyts - 400/6.8 and 560/6.8 - with a Trombone like fousing mechanism.
https://www.l-camera-forum.com/topic/200258-telyt-r-56068-puzzle/?p=2270735 is the source for the following image.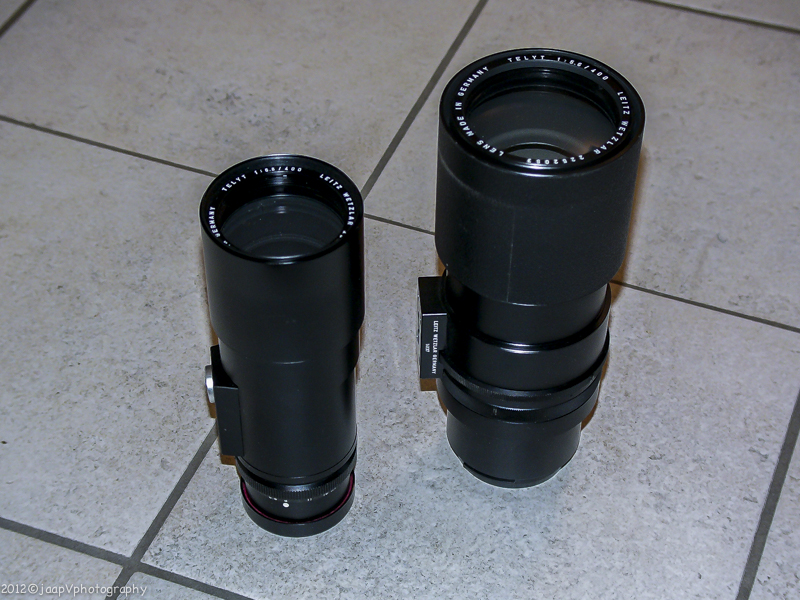 In order to manually focus one has to press in the button on the side of the lens and move the lens head back and forth. With my copies of both lenses I never felt I was able to position the lens head with the Trombone like fousing mechanism precisely enough, so I was looking for a better solutions for myself.

The following image was shot with the Sony NEX-7 and Leitz Telyt 400/6.8.






I still have the beat up old Telyt 560/6.8 with which you shot many of your early stunning bird images.
I used it with the modifications/add ons visible in this picture ...






... and got images like the following one with it, ...






... fine focusing by turning a little wheel. Later I added this version of the 560/6.8, same optics.






It turned out the lens was vibrating way too much due to the flimsy tripod attachment.
But that could easily be fixed as follows.






After awhile the considerable lens aberrations got to me and I switched over to using the Leica APO-Telyt-R 280/4 and Vario-Telyt-R 105-280/4.2 that have stunning optical performance.
Here an image of the A7r2 attached to the 280/4.






Of course, one can attach extension rings to turn it into sort of a MACRO lens.






Of course, one can play a similar game with the Leitz Telyt 560/5.6.






Or with the Leitz Telyt 400/5.6 ...






... with a Visoflex and Leica M9 attached, and shoot images like this.






And finally a contrasting image. shot with A9 + FE 90/2.8 MACRO G OSS and AF.






K-H.