gdanmitchell




Offline




• • • • • •


Upload & Sell: Off

molson wrote:
My wife is amazed (or is it annoyed?) at how long I can stand in one place waiting for the light to change...


My wife — who is also a photographer — has adapted. ;-)

I do not work in any one particular way. It really depends on the situation and the subject. With the range of subjects I photograph and the range of conditions in which I pursue my photography, I adapt my working process to the subject and circumstances. Sometimes slow and contemplative is the ideal approach. Sometimes fast and intuitive is more effective.

For example, when I'm photographing migratory winter birds I may work quite quickly. Turn your head and you won't know that I made a photograph. But this can happen with landscape photography, too. Some subjects are extraordinarily fleeting and their appearance cannot always be predicted — effects of light and atmosphere, clouds, a person appearing fortuitously in the scene. When these things appear, I sometimes have to move with extreme speed or the subject will be gone. (I have plenty of examples of subjects where this happened and I perhaps managed to get two or three frames — and you can see that the magic is gone by the last one.)

Here is one example. Recently I was in the Sierra backcountry for 9 days with a group of fellow photographers. On this evening I had been photographing my intended subject in a more contemplative manner, slowly exploring a particular bit of trail-less landscape. I happened to look up and see this light on these peaks with the dark sky from storm clouds, and I knew it wasn't going to last. I very quickly set up my tripod, put a relatively long lens on the camera, and made about three exposures. This light lasted literally seconds before clouds to the west blocked it.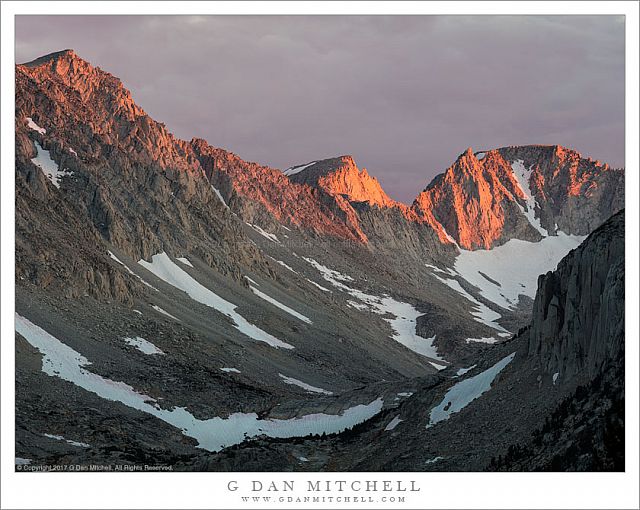 Yet, on the same trip (and in almost the same location) on a different day, in the morning instead of the evening, I headed to this alpine meadow and spent several hours wandering around slowly, carefully considering the photographic possibilities. I had actually thought of this particular subject and location for about a week, since I had first seen it near the start of the trip, and I had probably revisited it as many as a half dozen other times already. There was no hurry at all about making this image, and I recall spending time carefully tweaking tripod position and height, the framing of the scene, and even waiting patiently for the breeze to die down and provide the right sort of reflections.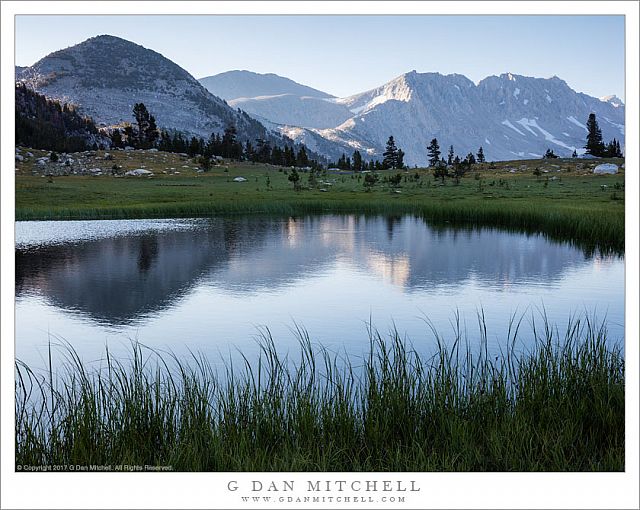 I'm not making a claim that either is necessarily a Great Photograph — whatever that even means — but I'm clear that, for me at least, it is important to be able to operate both slowly and quickly in varying circumstances. (And, as I realized after posting the two photographs together, there is nothing in their appearance that would give away the very different approaches I used. They both seem like very "quiet" images to me.)

Now, let me loop that back to my earlier post about the idea that miniMF cameras might "force" one to work more slowly. Regardless of how you feel about the idea that this would be a virtue, I think — as I mentioned earlier — that a close look at the Fujifilm GFX reveals that Fujifilm actually went to a lot of work to ensure that it is not a camera that forces you to work slowly. In fact, its modern interface is much like that of typical DSLRs, and very little like that of old-school film systems that, arguably, were harder to operate quickly.

If you really do want a camera that doesn't allow you to work quickly... the Fujifilm GFX is clearly not that camera.



Edited on Sep 25, 2017 at 01:59 PM · View previous versions