Bifurcator


Offline




• • • • •


Upload & Sell: On

Bifurcator wrote:
Ya know… It occurs to me…
So, honest question…. If you're an LR user, why?

Light_pilgrim wrote:
What do you think is better than LR and why you believe so?



Me? Hmmm, Depends what I'm doing I guess. I like CaptureOne Pro, GraphicConverter, PhotoShop, Bridge, OS X, ACDSee Pro, and AfterShot Pro (ASP) but ASP needs some work yet. I come from a background of teaching extremely complex interfaces with enormously elaborate tool-sets like Maya, Houdini, 3DS Max, LightWave, XSI, and so on. So to me learning a new photo editor like DxO, LR, ASP, PhotoLine, Photo Mechanic, is total cake. Maybe 1 hour to know 90% of it and another 2 hours to have a complete knowledge of the total package (skimming the manuals helps a lot too!
). I like variety in software so when something is new and different I'm drawn in rather than driven off like so many others seem to be. Neat, something new, let's explore, how intelligent were the designers, do they fit my thinking - can my thinking fit them, and so on like that.

I'm a hobby shooter so I have no deadlines. Application speed to me in an excitement or a stimulant if you can follow that. But sluggishness is a downer and a depressant. The stimulations and depressions are of course momentary, fleeting, and shallow but those are the emotions I feel. I want something capable and accurate but also which delivers a sense of speed and horsepower.

I also edit on my internet browsing machines. I have a render-farm comprised of high-end Workstations but I only use them for rendering and almost never touch them for anything else or install other software packages on them. This causes me to be hyper aware of the efficiency of code. Right, on a high-end workstation the speed difference between LR and CP1 may be 2min vs. 1min (respectively) for a given task which are both tolerable, but on my 2006 8-core 2.67Ghz MacPro the same task is the difference between 6min. (too long) and 3min. (acceptable). Also the 2006 8-core it pretty close to the same speed as a machine the typical home user is likely to buy in 2013 / 2014 (not high-end but typically average) so this gives me a pretty good indication of what the average hobbyist is likely experiencing.

When I sit down to edit a set of photographs which are interesting to me either to print or to share on the web the first app I grab is typically PhotoShop. I use OS X to preview and sort (or locate) them (and once sorted I can create "Smart Folders" if this is something I do very often):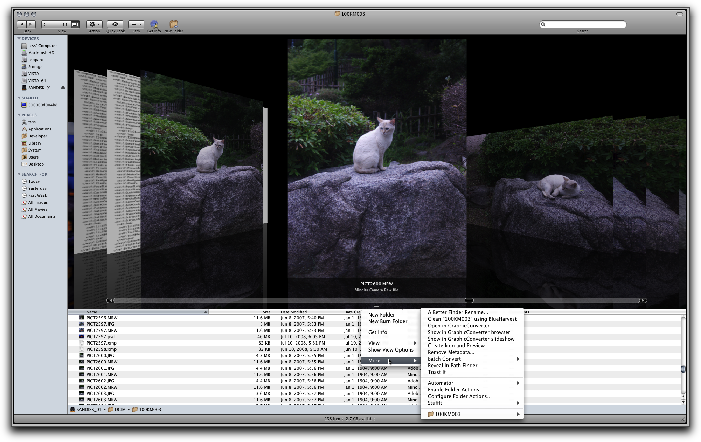 OS X (10.6.8 I think) CoverFlow view of RAW, PSD, and JPeg Images




Once I select a few I want to edit I double-click adjust in ACR first and then run them through a PS "Action" script. Creating these scripts is cake and a very elaborate one might take 2min. to create. Editing them once created is as easy as clicking on the item you wanna change or pressing the Rec. button to add more steps. I set up the scripts to be interactive so that it actually has a totally different result for each image I run through it.

Here is what my most used one looked like in Feb, 2013:










The images open in an oversized demosiaced state (so my 16mpx images open as 22mpx in 16bit Prophoto) and along the way in this particular script they're saved for both printing and web-sharing. At any point along the way I can pause the script by canceling one of the fade operations (which occur at every edit) and reenter the script where I left off by pressing play once again. This happens occasionally when I need to use layers or run a different plug-in, or whatever. The fade operations allow me to adjust the amount I apply each edit or modification - so really all I (typically) do is wait few seconds, adjust a fade slider, click OK, and repeat till the script ends. This saves boatloads of time over every other app I've used. And shooting with a GH2 these kinds of edits are almost always required. I suppose if I were shooting something like a D4/D3X or a 1Dx/1Dc then a lot fewer images would need to be manipulated or "processed" and I would have a different workflow but for GH2 shooting this is the way I find works best in the majority of cases - most of the time.


I dunno if that answers your question of what I like better and why I believe xxx is actually better or not but I guess it informs you of what my typical workflow looks like. As I mentioned earlier in this thread I think Cataloger Apps are redundant and a bit of a waste of time. The OS+FileSystem itself already IS a cataloger and one that's far more diverse, faster, and more capable than any application I've ever seen. IMO apps like Bridge, ACDSeePro, PhotoLine, Photo Mechanic, CaptureOne Pro and AfterShot Pro (when used without their cataloging options) are capitalizing on this advantage and are superior for that reason. In every case navigation and sorting is about double the speed (of LR) and in AfterShot's case it's closer to four times the speed. And all of those do essentially the same needed things such as: Highlight recovery, Click-able white balance, Exposure adjustments, Sharpening, Noise Reduction, HLS Range adjustments, B&W conversion, Savable presets, Search-sort-tagging-labeling-keywording, RAW + JPeg support, External Editor support, and so on. Some have unique tools and conventions as well making them more or less powerful and enjoyable. AfterShot Pro for example has Layers built in and they act very much like PS SmartObject layers where any layer action can be revisited later and the amount or type of edit can be modified dynamically. And so on…

I guess the deal with me is that:

if I want a SlideShow then I want the best most powerful slideshow software - and that's not LR.
If I want to browse and navigate my images then I want the best and fastest - and that's not LR.
If I want a RAW converter (demosiacer) then I want the best one - and that's not LR (although LR is close).
If I want to edit the conversions then I want the most powerful with snappy responsiveness - and that's not LR.
If I wanna make a Book then I want the best most versatile book-maker soft - and that's not LR.
If I want to catalog my images then I want the best cataloger - and that's not LR (although LR is fairly good).
If I wanna create a webpage of images to share I want the best most customizable - and that's not LR.
If I want printer output of my images I want something versatile and powerful - and that's not LR.

and so on. Now I didn't need to add the "and that's not LR" to each of those but it shows why I'm wondering why people choose LR and it might help explain my modular approach. What good are a collection of tools all in one app if most of the tools are mediocre at best? What have I got then, a collection of junk that doesn't do what I want and/or doesn't do it well enough slash fast enough to satisfy? <shrug>