Musicman




Offline




• •


Upload & Sell: Off

I think there are quite a number of people like me on Alt who still shoot film, so this may be of interest...

I've become rather dissatisfied with the results I've been getting with my Epson V700 for 35mm film and the A7 presented an opportunity to try something different.

I posted about using the A7 as a slide copier a couple of weeks ago and have a couple more examples.

Kodachrome

Canon AV-1 with FD 50mm f/1.8 lens, taken October 1990.



1929 Barcelona Pavilion by cybertect, on Flickr


Boots 200 slide film (made for them by Fuji and very similar to Sensia)

Canon A-1, FD 28mm f/2.8, taken September 2010



GLA Assembly Chamber by cybertect, on Flickr

100% crop



GLA Assembly Chamber: 100% crop by cybertect, on Flickr

Here's the setup:

- Sony A7
- Cheap FD adapter
- Canon Bellows FL + Slide Copier attachment (it's been sitting unused since I bought one on a whim a few years back).
- Canon FD 50mm f/3.5 Macro lens
- iPad as a light source - I have a proper daylight balanced lightbox somewhere about, but it's been tidied away somewhere and the iPad is doing sterling service until I can relocate it.


~original[/IMG]


Colour negs presented a bit more of a challenge, but I think I have it sussed now.

Neg strips slide in a convenient set of pegs between the slide holder and ground glass on the Slide Copying attachment.

I picked up a copy of ColorNeg for US $67, which handles turning a colour negative into a positive image with a couple of clicks, with presets for a number of common film types. A lot easier than some of the methods I've come across using PS on its own and a huge time saver.

Here's a V700 scan I did of the same frame last year, shot with my Canon A-1 on Superia 200.

I have always had terrible trouble getting the colour half way decent when scanning Superia, so this is my personal torture test.

Bicycle on Mill Street by cybertect, on Flickr

And here's the A7 'scan', processed through ColorNeg and a little tidying up in Photoshop: levels, some mild contrast adjustment and spotting.

It was a breeze in comparison: faster, easier and the colour is a lot better.


~original[/IMG]


Comparing 100% Crops

V700 scan with Vuescan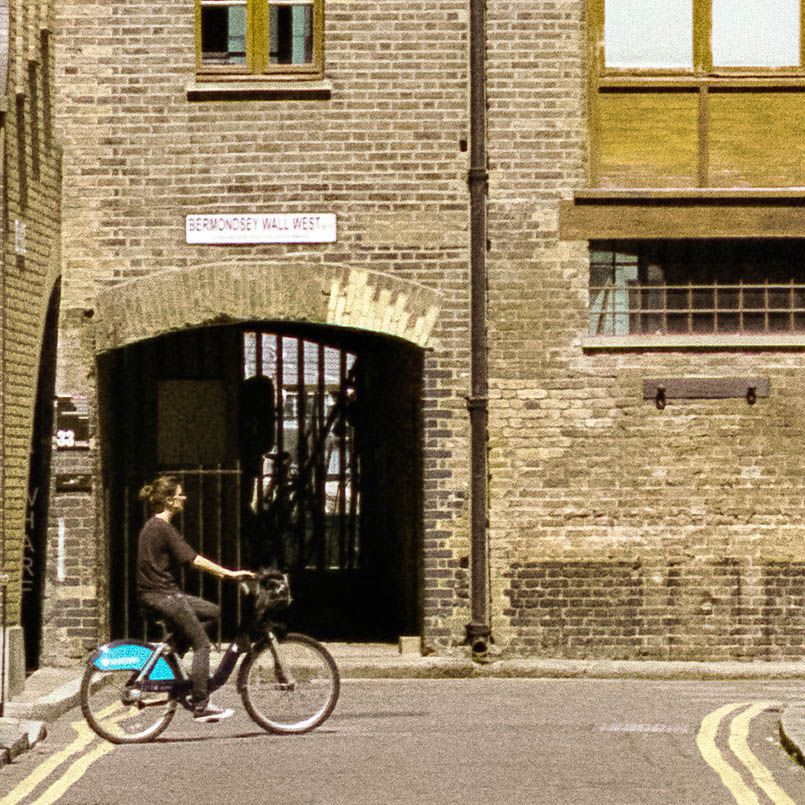 ~original[/IMG]

Sony A7 + FD 50mm f/3.5 Macro 'scan'


~original[/IMG]

Look carefully, and you can actually read LONDON BOROUGH OF SOUTHWARK on the street sign, which must have been 70 or so metres away. Individual bike spokes and the cyclist's shoelaces are discernible where they were not with the V700.

In short, I'm very happy with the results and I suspect that, in future, my V700 is going to be reserved for medium format use.

I am now really curious to see how it stacks up against a decent film scanner like a Nikon Coolscan and how much more detail an A7r could extract