Bifurcator




Offline




• • • • •


Upload & Sell: On

I too have always had exceptionally good luck with the IBM DS drives. They last forever. I was using 2 cases of them all at once at one point. (24 in a case). Great drives in their day! I was using the 360GB (I think?) models in a VOD system I maintain as a PT job. That was when they were still branded IBM. They had a very good reputation with system engineers too - in spite of their (apparent) reputation with end users. <shrug>


Bifurcator wrote:
Oh, you're saying that when 500gb SSD drives drop down below $200 you'll give them a go?

I wonder if they ever wiil? I mean now that SSHD are bumping against 1TB, have relatively the same speed as SSDs and will sell for less than or about $150 then the future I see for SSD is somewhere in or near the trash heap. With this being the case unit sales will drop dramatically and that means both profit margins (returns on engineering) and corporate interests (market projections) will fall. If/when that happens and it seems to be happening as we speak,...

Show more

→
Rogue416 wrote:
SSD's are a still maturing technology.

Bifurcator wrote:
So was video tape. Something better knocked it into the dust bin though.


The potential almost any technology is at the mercy of consumer interest. In the case of video tape for example it doesn't matter that the density could have been increased 10 fold, the frequency increased, or digital tracks be added, people stopped wanting it and/or using it and it died. Given the cost per meg, the size limitations, and the short life span of current SSD drives along with the fact that SSHD drives solve all those problems and are relatively just as fast I think spells
...

Show more

→
Rogue416 wrote:
Us consumers can be a picky bunch, can't we?


The cost per meg is slooowly coming down for SSD's, and I agree that they are still expensive. For example, Intel has an 800GB PCI Express MLC Internal Solid State Drive that goes for $4,099!!!
Granted it is aimed at the enterprise, but holy crap that is expensive for 800GB. Their 600GB goes for almost $1,000. That is also expensive. When SSD's first came on to the scene, they were being used by people that had to have bleeding edge technology in their builds: Gamers. It will be some
...

Show more

→


Yeah, I guess wrong as often as I get things right - maybe more.
But it seems to me that when that happened HDDs were typically clocking in at around 65MB/s and even a 4-drive RAID0 had trouble keeping up. These days HDDs clock in at 250 to 300MB/s (costing about $100ea) so just a 2-drive stripe catches that fastest desktop grade SSD - which sells for about $500. I mentioned in another thread that a 3 or 4 drive stripe set will of course snuff the SSD, still be cheaper, and give you 9 to 12TB (when 3TB drives $100 are used).


Here's my setup using 6 of these 3TB drives at $100ea (total $600) reposted here: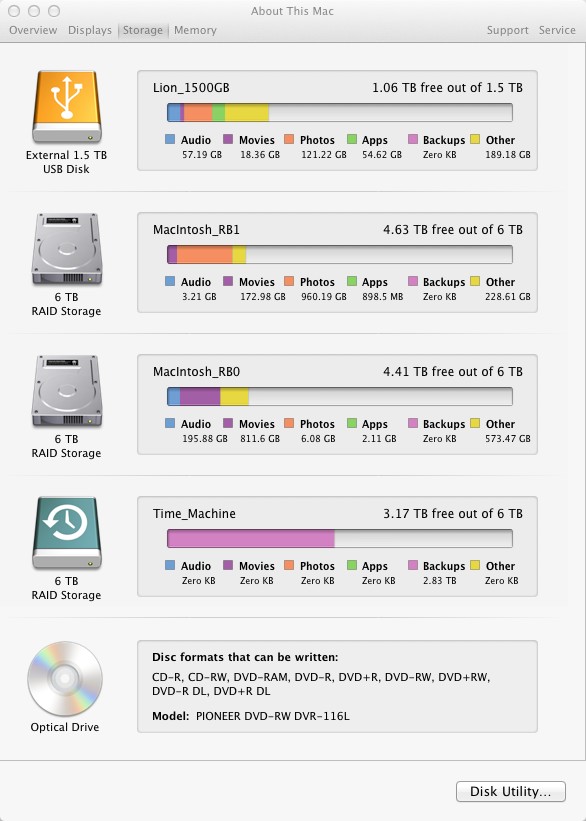 Three 2-drive sets using the $100 3TB Barracuda ST3000DM001






Here's what the 2-drive 6TB RAID0 stripes profile like. This is with lots of data already on too.
With a 3-drive RAID0 stripe I get about 750MB/s and with four drives I get close to 1GB/s.
And of course with 4 of these drives we are talking about 12TB of storage space for $400.