Carl Auer


Offline




• • • • •


Moderator
Upload & Sell: On

| | |
| --- | --- |
| p.1 #1 · p.1 #1 · 2012 HS Hockey - Lewis-Palmer at Ralston Valley | |
So, I scouted the APEX ice rink earlier in November because it is like 5 minutes from my condo to get an idea of what I would need to have to shoot in there. The ceiling is silver, and the lighting is real good for a high school venue. I could shoot easily at ISO 1000 and get a 1/640th shutter speed, but I was going to strobe. I figured with the silver ceiling, two strobes would be fine bounced. Shooting in my old high school hockey arena in Alaska, 4 strobes for half the ice was a necessity, 6 strobes for full ice coverage. Well, I made two mistakes. One was bringing just two strobes. I should have brought all 4. My other mistake was bringing my sports reflectors to bounce with instead of the standard reflector. I bounced the strobes, but with the narrow beam from the sports reflectors, my fall off was behind the goal to about midway between the near blue line and mid ice. I will probably take 3 strobes next time. bounce two with standard reflectors and point a third down ice on a different channel with my 300 on that camera for down ice. It was the first of many games I will shoot at this arena, and with the exception of one shot, I was happy with the results. These are all the 7D with 70-200 or 1DII with the 24-70 shot above the glass on a step stool.

1. Stick hand glove save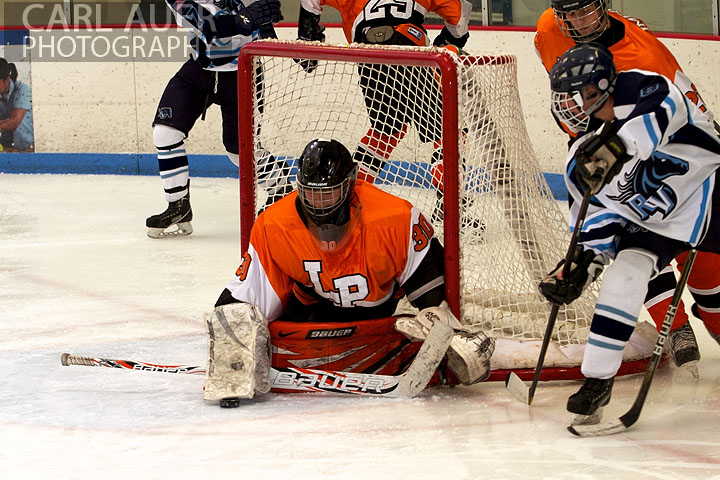 2. Standard glove save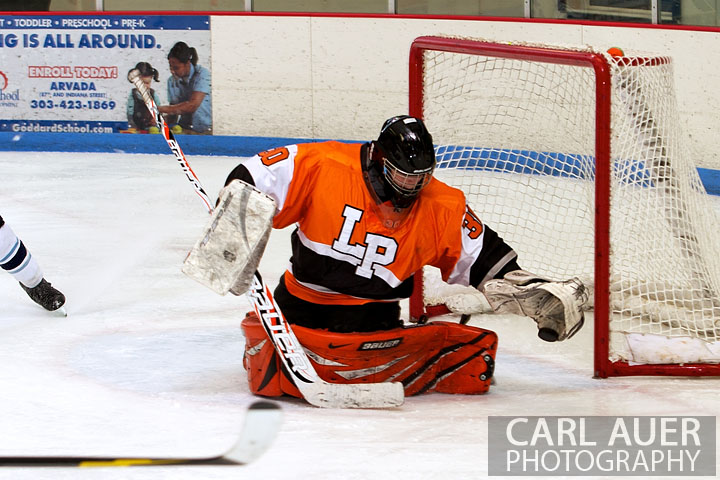 3. Home team student fans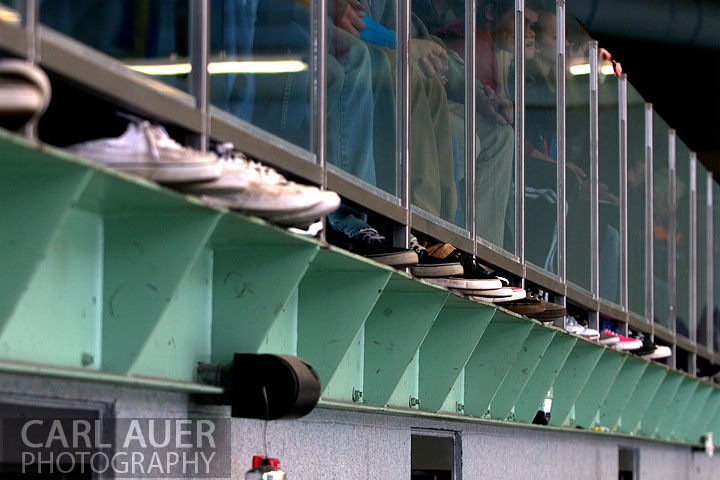 4.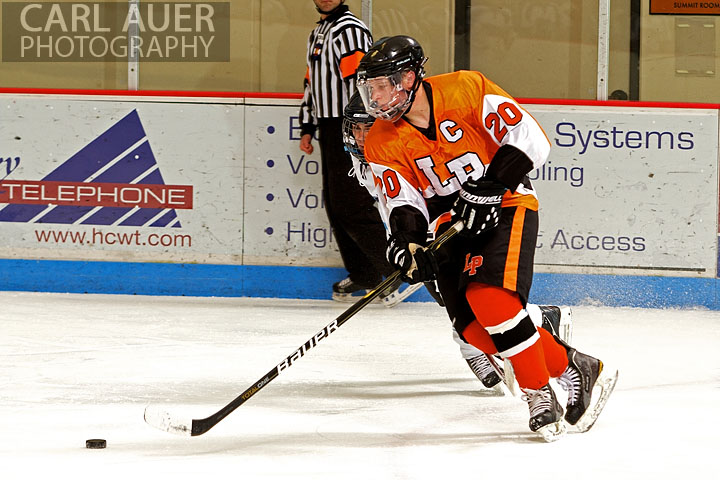 5. Another glove save (got a lot of this goalie....like 42 shots on him and he let 8 get by)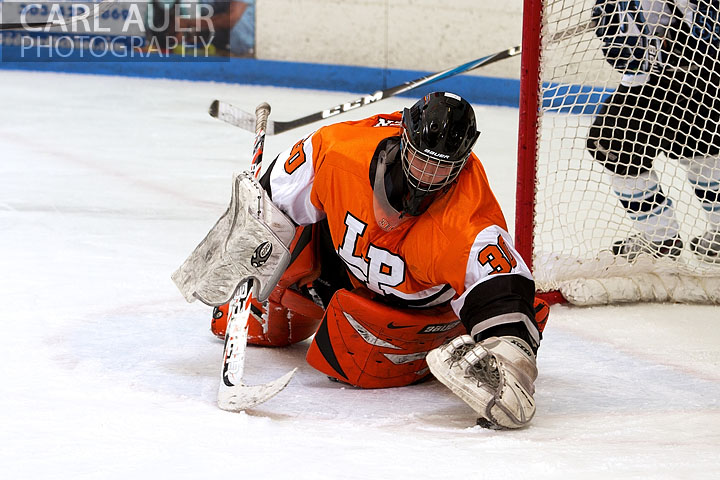 6. this is the shot I was not happy with....see how the ice gets darker under the diving player...full size, ambient has creeped in and he is all motion blurry....with a long lens and a strobe pointed down ice, it would have been a killer grab....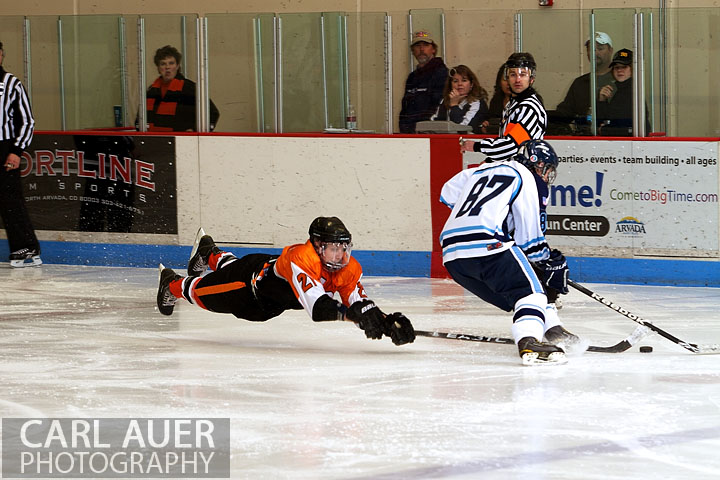 7. Home team goalie did a lot of skating around giving me lots of nice portraits of him....I think he had two shots taken on him all night....home team, Ralston Valley won 8-0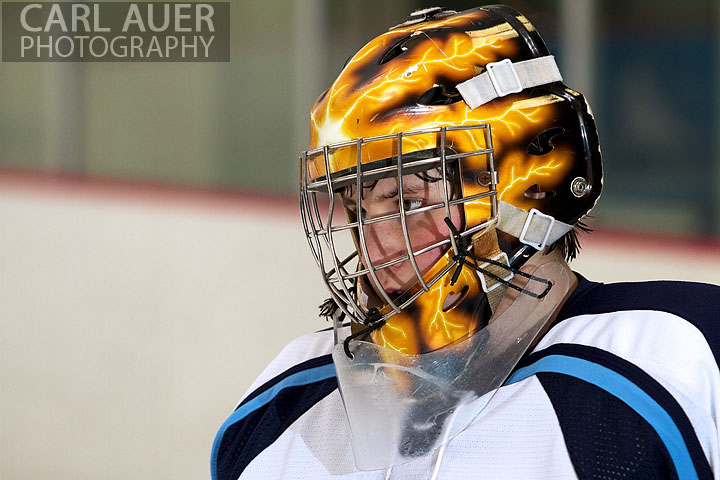 8. near the end of the game I re-aimed one strobe to cover a bit more of the area behind the goal, but lost mid ice totally...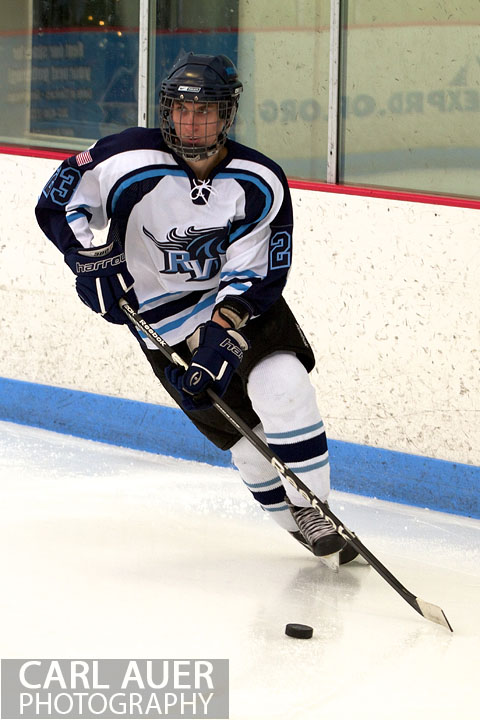 I will post CU/CSU hoops tomorrow and photos from a two day stint shooting 4 high school hoops games a day.....busy week...