Carl Auer


Offline




• • • • •


Moderator
Upload & Sell: On

So after prepping my room for paint and getting one wall painted, I headed from Arvada up to Boulder for the UCLA and University of Colorado football game. I have been fighting with a miss focusing camera that I think I figured out the next night at the Rapids Galaxy soccer game, but that would be a gear post, so lets get to the game.

I can tell you, I always hated 12pm or 1pm start times to shoot football, but I think I hate 4pm even more. This was my second time at Folsom Field, but I got delayed when the person at the media entrance decided he had to check each of my cameras, have me turn on my computer, and I was totally expecting him to put on a rubber glove.

So I got to the media room, to get my sideline band, and set up my work area, double checked my code replacement file, grabbed some food and looked out at the field. Kind of overcast, so, while I was finishing up my food, I decided to set my cameras up took a couple test shots, all looked good, and headed down to the field. I got down there just in time to see that the sun was going to come out, rendering my settings useless, and changed everything just as the cheerleaders and Ralphie took the field.

1.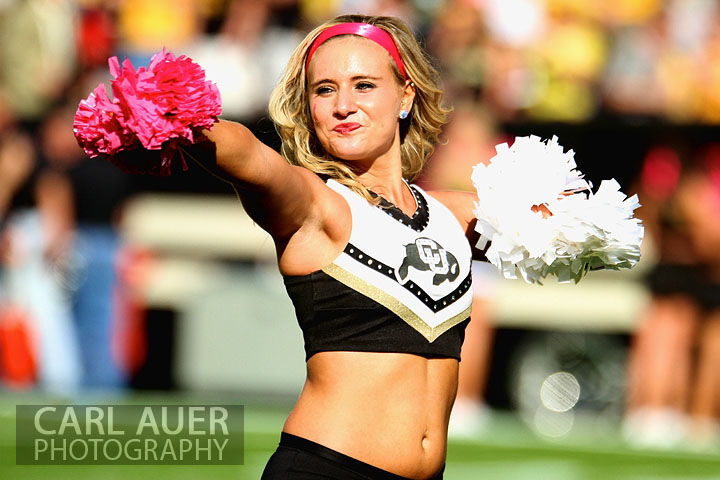 2.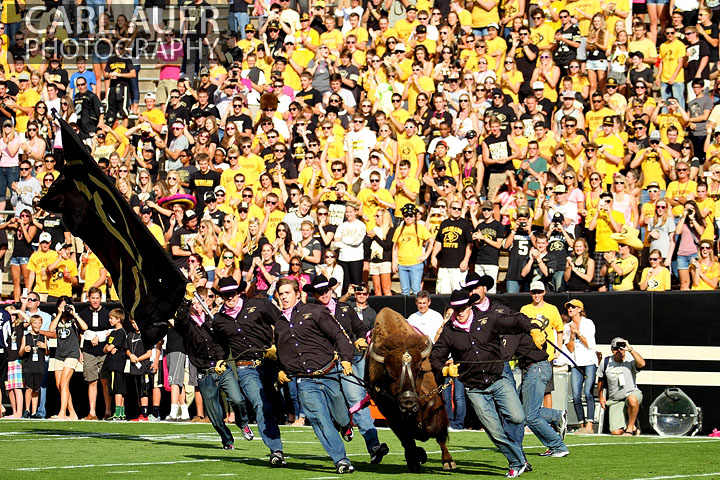 So, my first few shots were a little hot until I dialed things in.....and then the shadow came...a third of the field was in shadows....

3.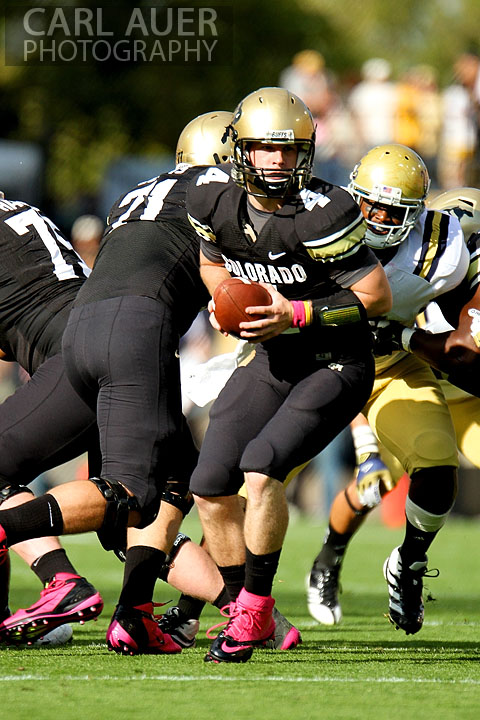 4.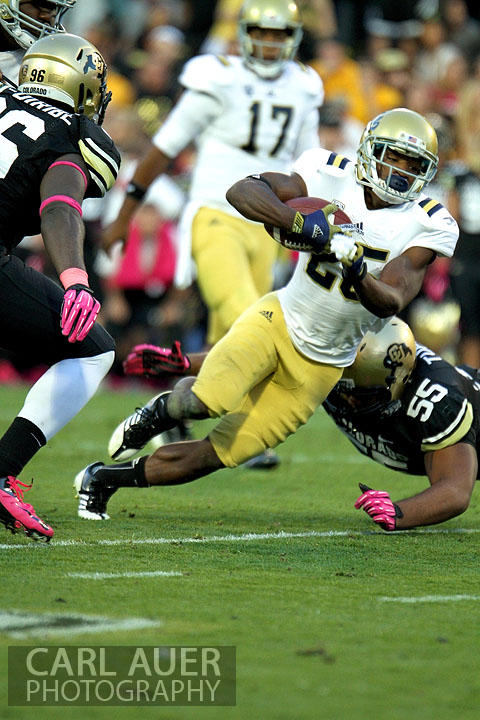 5.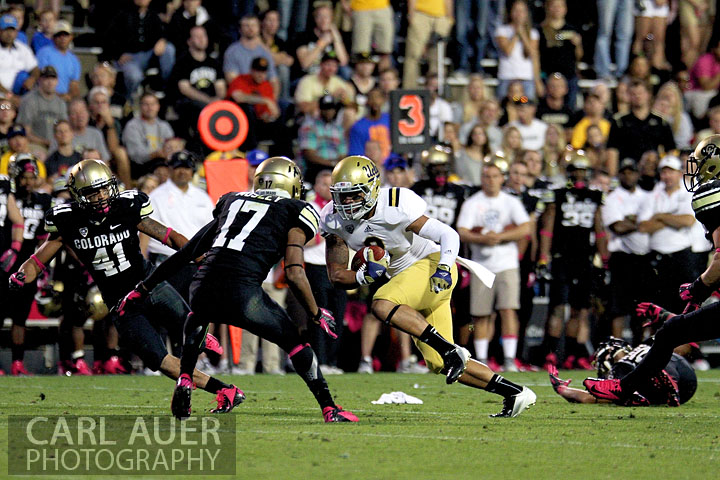 6. This was a touchdown catch I almost missed. I switched sides near the end of the game, and got stuck between the Bruins and the Bruins cheerleaders, with the Pac-12 media time out official, sound dish chick (who was cute) and Pac-12 TV standing in front of me. While waiting for the cheerleaders to stop flipping and spinning I looked over to see the ball in the air coming right towards me, and standing with my monopod collapsed, I swung the 120-300 around and got it to 120 as quick as I could to grab this....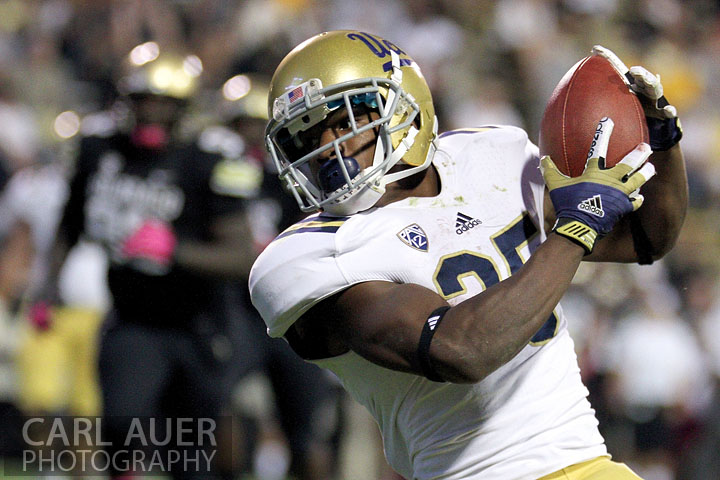 7.
This cheerleader was almost knocked out when a camera on a crane came swinging around (operator was not paying attention). It was a time out and she was dancing with the other cheer leaders with me sitting on the ground next to her. I looked up, because she was cute and saw the camera coming right at the back of her head and grabbed her leg. She looked at me with a scared look on her face and I yelled DUCK...she seemed pretty happy I saved her life. The other cheerleaders saw the camera almost hit her and all screamed and ran away..this shot was after the camera tried to kill her.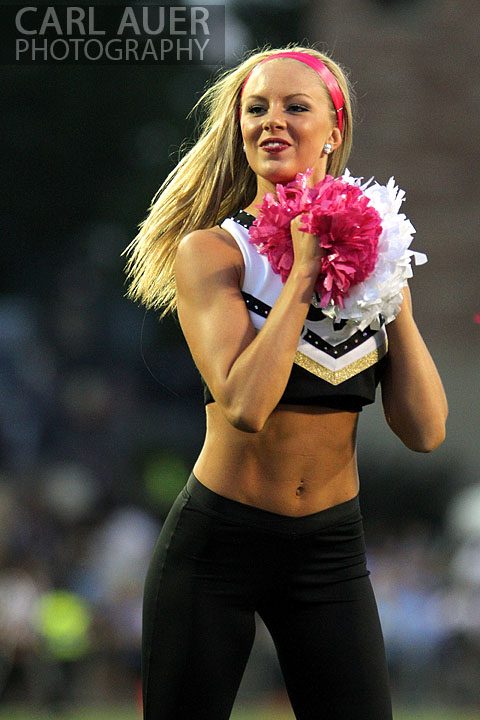 For those of you who shoot in the NCAA stadiums with limited room (Husky stadium was great until the current remodel with the track around the field that you could get from one side to the other quickly. I was on the cheerleader side at the beginning of the game only to see that on the other side of the field, during a time out CU honored Michael Westbrook and Kordell Stewart. No way I could get to the other side to get any shots.... Bummer...Michael Westbrook was always one of my favorite wide receivers.