cgardner




Offline




• • • • •


Upload & Sell: Off

The 285HV of today isn't the same as those of the past. Manufacturing moved from Japan > Korea > China. The country of manufacture is molded in to the case on the bottom near the foot. At one point in the mid-2000's Vivitar discontinued the 285HV but it was brought back to the market due to resurgence in demand from "Stobist" disciples. Then shortly thereafter the brand was sold, and quality started to decline from that of the "built like a tank" reputation Vivitar had earned over the years.

"Strobist" style shooting had been around long before David Hobby was even born. I'd learned the dual strobe technique from Zucker and shot weddings that way from 1970-72. He had started using dual flash for wedding candid shots shortly after optical slave triggers made it possible, using a pair of large and heavy Graflex "strobe flashes" as they were known then to distinguish them from flash blubs. They are still around on eBay:








I bought my first matched pair of Vivitar 263s (made in Japan) in 1973 for personal use. The 283 were on the market then but I couldn't afford them at the time. I still have them. I picked up a used Vivitar 283 in the mid-1980s which I suspect late 70's vintage, also manf. in Japan. I used them with my 35mm and MF film cameras, but when switching to digital in 2000 I had to buy new flashes with lower trigger voltages and got a pair of 285HVs which are stamped "MADE IN CHINA".

Prior to digital exposure metering was done off the film during the actual exposure. That didn't work with the sensors so metering moved to the viewfinder and all film era flashes such as the Nikon SB-NN series and Canon EZ series became paperweights. If you were a working photographer accustomed to shooting with manual flash /distance for exposure, had a lot of film flash gear around, and where switching to digital you did what David Hobby did: extend the life of the flash gear by using it with radio triggers, not because it was a better solution than the new flashes but because it was cheaper than buying all new system flashes. Also at least with respect to Canon the first EX flash gear (420ex and ST-E2) was ETTL only, with no manual control.

We all advocate what we find works well and Hobby became an advocate for the cheap obsolete flash + expensive radio trigger approach which became known as "Strobist". He's changed opinions over the years but in the beginning Hobby was a "manual is the only way" zealot. I recall listening to a on-line audio interview where he use the term "ethic" about a dozen times in the space of five minutes in describing the manual approach as is it were the only the "true religion" for flash photography. He and the person interviewing he discussed Canon ETTL but only to disparage it, displaying woeful ignorance of how it worked and when worked better than manual. A few years later when Radio Poppers arrived on the scene and he actually tried ETTL wireless ratios he discovered, quite to his amazement, that not only did they work they were far more convenient. He seemed equally amazed when "discovering" the benefits of things like flash brackets and the neutral fill they provide, stuff I've taken more or less for granted and advocated for going on 40 years now


I understand manual works more predictably but I'm no zealot because I also understand from actually using it that TTL is more convenient most of the time. The best approach is to have the skill and experience to use both and pick the best tool for the job at hand.

My first SLR in 1969, a Nikon Ftn had the optional center-weighed metering TTL metering linked mechanically to the aperture ring of the lens. I also used a Luna Pro incident and Honeywell 1° reflective spot meter. I started using TTL flash in 1985 when I bought a Nikonos V underwater camera and SB-102 strobe to replace my Nikonos II and Ikelite flash-cube flash attachment:








The Nikonos II was the first camera I bought in 1969 to document my high school SCUBA adventures. This shot was taken at Devil's Lake, WI on the day Neil Armstrong walked on the moon...






In the 1990s I bought a Nikon N4004s with a TTL SB-23 flash and a Pentax WR90 P&S which was TTL. So suffice to say I was very familiar and comfortable with both manual and TTL flash control. I came to appreciate the convenience of TTL, how it metered from a "middle gray average" baseline, and came understand by comparison how the metering of each camera interpreted scenes differently.

What was liberating about digital was how it allows for easy objective comparison tests of metering. With film I typically would do a fewer tests and the results would be more difficult to evaluate without measurement tools. With digital testing is quick with immediate feedback and the ability to quantify results via eye dropper readings on test targets. I probably test far more than most, and more than I need for personal use, but the testing became a part of my tutorials explaining how flash works.

Different cameras even the same brand, differ in how they meter a scene. My SOP for any new camera is to put it in the most automatic mode and go around and shoot stuff with ambient only in P mode initially just to get a baseline on how the camera metering works: when it guesses correctly, when it doesn't. Then I'll do the same thing in Av mode, controlling aperture myself and letting the camera guess the shutter. Then for old time sake I'll forsake the metering and shoot in M mode trying to guess the exposures based on experience. By the end of the first day of ownership I usually have a pretty good idea of both how the camera "guesses" exposure, and how that camera does it differently from the one I was previously using. I don't assume they will all be the same or they will get it "right".

After getting my 20D in 2004 I didn't immediately buy Canon flashes. By then I had my studio lights and was mostly shooting with them. When I did shoot on location I used my pair Vivitar 285HVs in manual mode using the tried and true direct flash / distance / power method I'd used for years and with my previous digital cameras a Kodak DC290 and Minolta D7Hi. But the D7Hi with its EVF and no sync limit had spoiled me, allowing me to shoot at any aperture outdoors with flash. I'd also bought a bunch of fast glass but with the Vivitars outdoors I was hamstrung by x-sync at 1/250th @ f/11 @ ISO 100. That's what finally made me decide to spend the $800 and by a pair of 580ex flashes.

I was hugely skeptical of the hocus-pocus ETTL wireless ratio thing, to the point of asking someone on DPR who had a pair to shoot some systematic tests. The day after I got mine I shot this test...






I set up a white binder so both sides were hit by Master and Slave but the right side by the Slave only. I was already using my DIY diffusers at that point with the Vivitars so I used them for the test. Starting at A:B = 1:1 I adjusted FEC until the highlights were around 230 — I wanted some headroom for overexposure in the test. Once FEC was dialed in (it took FEC = +1-1/3) I ran the table on the ratios from 8:1 to 1:8 without adjusting anything else.

As expected there's no much difference between 8:1 and 1:1 because Master is always Group A and I was using it over the camera on a bracket as fill. The A:B ratios are relative INCIDENT power, not reflected ratios as under the traditional portrait ratio convention. So a A:B = 1:1 winds up similar to a H:S = 2:1, a A:B = 2:1 winds up similar to a H:S = 3:1, etc.

What surprised and impressed me was how well the metering was able to sort out the exposures, which required cutting Fill from the Master to darken the shadows and at the same time increasing output of the Slave to maintain the same exposure in the highlight on the right side of the binder. The small black numbers are the eyedropper readings and in the useful range from A:B = 1:1 to A:B = 1:8 the variance was 227- 232, which given the DR of the camera of around 7 stops represents about 1/6 the stop.

I did with the flashes what I do with my new camera bodies, put the camera in P mode at EC=0, the flash in ETTL at FEC=0 walk around the house and shoot stuff and see how well the camera's "I think this is right" baseline worked. The 20D was only of the first bodies with DigicII processor and E-TTL II flash exposure which changed flash calculation from AF point centric to a zone-based mapping / evaluation paradigm. How it worked was hinted at in Canon white papers, but the information was sketchy and there were a lot of conflicting opinions on which metering modes were most effective.

Confusing the metering choices is the fact that on the 20D there were 18 different combinations you could use. On a camera with spot metering there are 21. One of the things I learned about process control and testing, which a did a lot at work managing printing plants is that you need to change one variable at a time to see its cause and effect clearly. So snowed in one day I decided to systematically test all 18 metering modes on my 20D to see which worked best, putting the camera in Av mode and the flash in ETTL.

I shot into an interior corner with a sunlit room in the background using wide-med-CU zoom settings on the camera to include more or less of the background...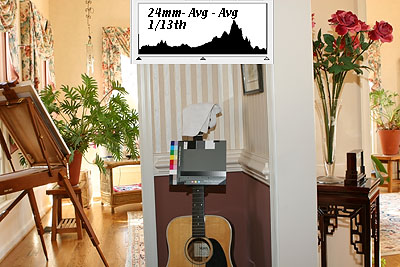 The write-up for the test is here: http://photo.nova.org/Canon/TTL/ None of the metering modes ideally exposed that complex scene at the default settings. That didn't surprise me at all because I don't expect TTL to get it right more than about half the time. Before that test I'd conclude that the quickest route to optimal exposure was to let the metering take its best shot, evaluate it with the clipping warning, then adjust EC and FEC as needed to keep the highlights under clipping.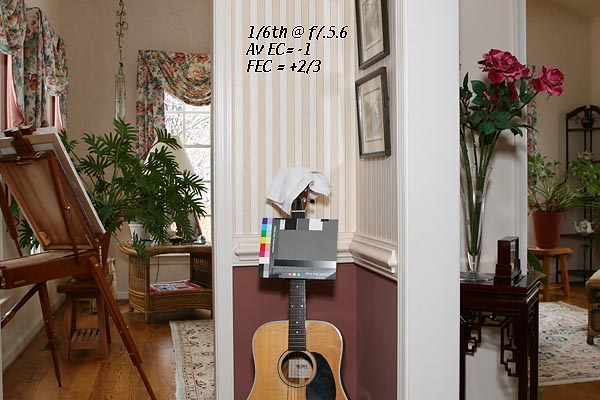 What the test showed me is that Evaluative metering for ambient and flash overall did a better job of guessing the optimal exposure than the others. Not my much, but if you expose per the clipping warning what mode the camera uses for its guess really isn't that important: it's just a consistent starting baseline for analysis.

With more experience and systematic testing — which can reveal more in an hour than a month of random trial and error — I discovered that an A:B =1:2 ratio would always exposed everything in the foreground with a full range of detail. For example if shooting a bride and groom both would have detail at 1:2. At 1:3 or greater exposing for the dress will result in loss of detail in the black suit. At 1:1 exposing for the highlights will result in lighter than normal shadows giving the photo and overall "flat" (i.e. overcast day) look tonally.

So shooting in ETTL mode with dual flash is actually quite simple — once how it works is grasped:

1) Set ratio to capture a full range in the foreground — e.g. A:B = 1:2
2) Take a shot at FEC or some other known baseline *
3) Adjust FEC until highlights are just at or below clipping in the playback

When exposure is adjusted for the highlights with FEC the ratio takes care of the shadows. As shown in the ratio test from the baseline of recording the foreground with detail everywhere at A:B = 1:2 the ratio can be adjusted and the metering will do a good job of keeping the highlights exposed consistently. All TTL exposure vary based on scene reflectance so if the content or photographer moves so will the exposure. Evaluative by virtue of how it maps exposure as zone spot readings does a better job of coping overall with scene changes, but with you have a small highlight moving around in the same amount of dark background keeping the average reflection the same average mode will work. Any mode will work predictably if one uses it consistently because the final adjustment will always be make visually based on the playback after the camera guesses.

ETTL is not the best tool for every flash shot. In static situations M mode is just as easy to use and far more predictable. The contact sheet below shows an entire location session that took less than 15 min:








Arrive, shoot gray card and set Custom WB. Place slave one arm span from subject nose (5-1/2ft) at 1/2 power. Step back to 8ft and shoot a white towel test shot with Master/Fill also at 1/2 power @ f/8 @ ISO 100 (established previously with testing) to confirm exposure settings are correct. Start shooting subjects. No adjustments to camera or lights necessary. The same session with ETTL would require multiple test shots to adjust exposure in the highlights due to changes in reflectance of the faces and clothing.

Outdoors I'll shoot with both ETTL rations and M mode. Here I was testing range in HSS and used the flashes at 1/1 and adjusted distance until I got correct exposure:

Baseline ambient, exposed below clipping:






One flash: effective HSS direct range = 7ft.






Two flashes: effective HSS direct range = 10ft.






Change aperture, adjust ambient exposure, no significant change in flash exposure in HSS mode:







Could I do those flash shots outdoors with my Vivitar 285HVs? No. That's why I don't use them much anymore. I don't mix them with my Canon speedlights but will occasionally use them with my studio lights for accents, light inside of objects, etc.

The ability the 580ex give me to also use ETTL with fingertip control of ratio and exposure, regardless of distance, bouncing or a host of other variables such as the use of gels on flashes? That's just the icing on the cake for me




BTW - The price drop may be related to rumors on Canon Rumors that new Canon flash, including a new system with radio control is in the works.